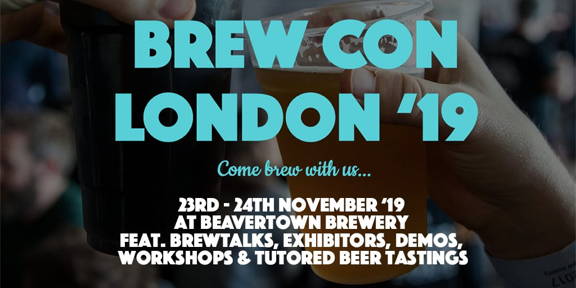 BREW CON London '19
Whats it all about in the words of the organisers . . . . .
"BREW CON London is back for its third year and we're going bigger, better & soooo much more beery. We're taking over one of London's most iconic breweries – Beavertown Brewery! And yes you read it right for both BREW CON events in the UK this year will be TWO DAY affairs!
BREW CON London '19 will feature a great selection of speakers,
within multiple theatres, including our usual BREWtalks covering all aspects of homebrewing, the return of the BJCP theatre and for the first time a specific talk area dedicated to Mixed Ferm, Wild & Spon beers!
There will of course also be an Expo with great exhibitors from the homebrew industry & world of craft brewing as well as amateur brewing workshops, live demos, home brew tastings and more.
The Beavertown Taproom will be open all weekend, with a selection of amazing beers on draught to choose from – at great prices!
And of course BREW CON London '19 will see the return of the BREW CON World Series III – our signature home brew competition! This year we plan to go even bigger with the comp, with greater prizes, more entries and EVEN MORE EXCITEMENT!
Tickets go live Monday 15th April and include entrance to the Expo, BREWtalks, glassware, program & access to home brew tasting.
Saturday 23rd November
Evening Session / 2pm – 8pm
£17.50
Sunday 24th November
Day Session / 12pm – 6pm
£17.50
All Weekend Ticket
Both Sessions
£30
We hope to see you there!"