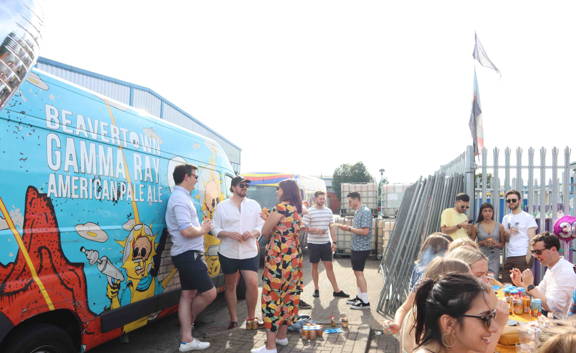 We've reopened the Taproom! In order to keep everyone healthy, happy and safe, things will be a bit different. It's another new-normal to get used to, but one that will ensure we can all enjoy our long-awaited pints within the new government guidelines.
NEW TAPROOM OPENING HOURS
Saturday – 12.00 – 9.00pm
Sunday – 12.00 – 6pm
The taproom will now be operating more like a restaurant as opposed to the old taproom bar-style service. This means:
All customers will be in a socially distanced queue outside brewery Unit 17 on arrival and wait to be seated by a member of the team. The floor will be clearly marked and will be a separate queue from click and collect and takeaway orders.
Hand sanitising points will be available on entry & exit.
All visitors must adhere to the rule of 6, we will only be admitting groups of up to 6 people.
Everyone will be asked to scan our official QR code on the NHS track and trace app.
Once all tables are at capacity, Beavertown will be operating a one table in, one table out system. No sharing tables, no switching tables, please only sit with the group you came with. Maximum of 6 people per table.
The tables are currently set at 2m apart, this will remain in place until the Government advise otherwise.
Customers will order through table service, this means no cheeky trips into the Taproom bar, sorry folks!
To minimise staff / customer interaction, customers will be asked to order via a tick-as-you-go paper menu. Simply fill out your order sheet and pop it in the stand at the end of your table. This signals to our team that you're ready to order. You will be asked for your personal details (see below).
Customers will have the option to choose between plastic or glass pints, dependent on what you are comfortable with.
All members of staff will be wearing PPE, gloves & masks.
Individual portable toilets will be available, no indoor brewery
toilets will be open to customers to ensure the safety of our team. However, our usual accessible and baby changing facilities will still be available.
We will only be accepting card payment.
WHY DO YOU NEED MY DETAILS?
New customers will be sat at table and given their tick sheet menu, upon which each member of the party will need to write their name and at least one form of contact i.e. phone number/email. This is so we can operate a track and trace system should anyone who comes to the taproom experience symptoms of COVID-19.
If you want to order additional rounds of drinks, you will be given new menus to do so each time, but need only give your details once.
Completed menus will be archived as hard copies, so that we may contact customers who have visited us if a localised outbreak occurs.
After 21 days we will destroy these hard copies. Details will not be used for marketing purposes.
NOT COMING TO THE TAPROOM?
Customers will be able to buy takeaway cans during new Taproom opening hours (see above). The queue for takeaway cans will be outside Unit 2 on the left. Takeaway cans will be sold only by 12 or 24 packs and are to be paid for by card payment only. If you're savvy, order your cans beforehand via our click and collect option on the Webshop.
When picking up cans via click and collect or takeaway, do not consume them outside the brewery, or in public spaces, please take them home to enjoy. If you do happen to take them to the marshes next to our brewery or in surrounding parks, please make sure to take your cans home – if you can carry them there, you can carry them back! We'll be sending out our team to do a litter pick on Tottenham Marshes just in case, but make sure to do your part to keep our spaces clean and don't leave it up to them.
Cheers!
Note: This post was last updated in line with government guideline in September 2020.