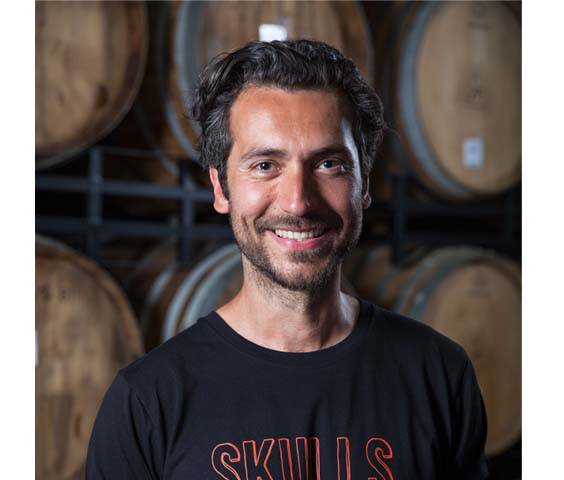 Are you selling up and selling out?
No. It's a minority deal. This whole process has been about me staying in full control of our journey with our team continuing to man the charge and take us forward in to the future together like never before. This is one of the most ambitious investments in the UK brew scene for many years. I am proud to be directing the project and taking Beavertown up another notch, to a place none of us could've imagined 2 years ago, let alone 6 years ago when I was brewing 25litre batches in my kitchen using a rice pan and a tea urn. The current investment needed to build Beaverworld now stands at £40 million ($55million). We will create one of the UK's, if not the worlds, best brewing and visitor experiences right here in London. This will increase our capacity tenfold and create another 150 jobs within Team Beaver. It will allow us to introduce our beer to new markets throughout the UK, raise the bar for great beer across the country and further afield, and continue kicking ass.
What other options did you consider? Why not crowdfund or find other investors?
We spoke to many parties and groups throughout this last 7 months. Crowdfunding, private equity and brewers. Crowdfunding for a £40m project wasn't a realistic option. Private equity would have created too much external pressure to hit the return on investment in a short period of time. I believe this could've created too much pressure for the brewery and thus perhaps lead us to making the wrong decision for our beer, our people and the direction of Beavertown.
Why did you pick Heineken?
This is about ambition. I am driven to take myself, our team and the brewery to new levels. I truly believe this is a once in a lifetime opportunity which we as a team have worked so hard to create for ourselves. Now we get to raise £40 million and invest it into our future, taking the brewery on to a whole new playing field regarding how much beer we can produce, the quality of that beer and really importantly the opportunity it is going to give our team to take a really huge step into the future. Prior to this we have been investing hand over fist, putting everything we had back in to the brewery and its growth. The decision to align ourselves with Heineken was all about their expertise, resource, route to market and most importantly the dynamic of the deal. They want us to continue doing exactly what we do now, and they will be there as a support network if needed. This is a very arm's length deal. We do have the option to dip into their resources but again, it is strictly only if we want to. Therefore, my main objective was nailed again, we maintain absolute control and vision. We shape our own destiny and that is a seriously powerful tool. We are now going to build one of the grandest platforms to shout loud and proud from. I want Beaverworld to be one of the world's best brewery experiences both from a technical stand point and as a visitor experience.
Will this investment allow you to open your own bars?
Yes, we've not been shy about our plans for many years to open Beaver Bars and this was one of our objectives throughout the process, though our main priority at the present time is to build Beaverworld. We started in the kitchen of Duke's and have always yearned to open more on-trade venues. It has always been my dream to establish multiple Beaver beacons across the land in craft centric spots where we can bring our beer and personality to life. My plan is to open Beaver Bars as soon as we find the resource possible and support the UK brew scene on the bar and in the fridge. We have over 2200 amazing breweries in the UK, I'd love to showcase their wares alongside ours. Part of my vision is about raising the entire beer drinking experience and that can only come about by working with other breweries from the UK and the rest of the world and being as inclusive as possible, not a bar solely just for Beavertown.
You've previously criticised bland mass-produced beer. What do you think of Heineken?
Heineken is known as the 'world brewer'. They serve their beer in over 190 countries. They are amazing brand builders, who have a track record of brilliant execution in getting those brands into new markets and have established amazing brewing quality and consistency throughout their network of breweries across the world. They are guided by fourth generation family leadership. As a family they are in control of their destiny which resonates with Bridget and me. The culture and values across their team are heralded and I take inspiration from the great journeys their team members have been on, progression through their company is amazing and something we have always tried to promote at Beavertown. So, we share many values, both cultural and brand specific, with them.
Isn't it hypocritical to partner with a big brewer when you've been critical of how they do things in the past?
Yes, during the Symposium at BeaverEx17 I criticised some aspects of what big brewers do and I recognise that some people will not be happy with my decision to take investment from one. I didn't take the decision lightly. I used those criticisms to set clear red lines regarding any investment ensuring we continue to operate independently and according to the Beavertown Way. The aim of brewing highly accessible beer doesn't need to be a negative. I've seen the rise of the US craft brewing scene where our brothers and sisters over there have been knocking it out the park. Their goals have always been about growth, getting the beer far and wide and drunk by as many people as possible. This is one of the defining factors behind choosing a partner of this scale and experience with a wealth of resources to pull from should we ever wish to. I spoke at length to Lagunitas founder Tony Magee and have seen that Heineken gave him and his team the space and the right kind of support to crack on without impacting on how they do things as a brewery. That gives me confidence to partner with a family business that takes a long-term view and has continuously adapted and innovated for over the last 150 years. The beer market is changing fast and I think we can learn a lot from each other and take great beer to another level.
You said you want a partner ready to learn from you. What do you think you can teach Heineken?
The intricacies of how and why we do things. Where we derive our values from and what we focus on in a product. The culture of the company, the passion and dedication of Team Beaver and how that resonates with the drinker. How we create, how we work as a team. How we interact with our drinkers and bring the beer to life making it more than "just a beer". I also look forward to learning from them.
Can you be a craft brewer when you're owned by a big multinational brewer?
The ownership of the brewery hasn't changed. This is a minority deal, where we, the team at Beavertown, are in full control of our destiny: What we do, when we do it and how we do it.
Can you be a craft brewer when you become as big as some of the family brewers in the UK
Yes. As mentioned, I'm inspired by the craft breweries of the US who are huge in comparison to some of the family brewers in the UK and maintain what I perceive to be craft values. The care and attention they have towards quality, innovation, service, experience and cultural values has been improved the bigger they have grown.
Will the Extravaganza go ahead in 2018?
That's the plan.
You're renowned for collaborating. Are other craft breweries going to want to continue to collab with you?
We certainly hope so. We're the same people running Beavertown and we have the same dreams we always had, and part of those is learning from and interaction with other brewers. We want to continue being able to create amazing beers and memories with our friends from the UK and the rest of the world.
Will you be contract brewing at Beaverworld?
We've no plans at the moment – all our focus is on getting Beaverworld built. Similarly, to our current relationship with Redchurch, should we have any spare tank space once we are up and running, we would look at contract brewing for another brewery on a case by case basis to further our own growth and development as a brewery.
What will happen to the Tottenham Hale brewery and taproom? Will you give a guarantee it won't close?
We want it to continue as a platform for the Tempus Project and brew all the wild and wonderful concoctions we come up with. It would be great to have full flexibility on site to brew everything our souls desired. The ability to stimulate and not be constricted by Gamma and Neck capacity will be brilliant for us as a brew team. We'll be able to brew 10hl, 50hl or 100hl batches of collabs, seasonals, one-offs and produce wort for the neighbouring Tempus Project across the yard. This will give us all the tools to stimulate the palate of every drinker which has always been our mission. Expression and experimentation have been at the foundation of Beavertown from day one. This will give us a blank canvas to go crazy upon!
When will the new brewery be up and running?
If all goes to plan then late 2019
What will the capacity of the new brewery be?
At full capacity, we will be able to brew 450,000 hectolitres of beer. Which is amazing when you think we moved to Tottenham Hale 4 years ago producing around 1,000 hectolitres.
Will any jobs be lost in the deal?
Absolutely not. As mentioned, nothing will change within the business of Beavertown, other than the building of Beaverworld which we hope will create up to 150 new jobs in London and the UK over time. That number doesn't include the new jobs created throughout the bar division once that gets up and running.
Will there be any pressure on you to cut costs?
Absolutely not. Again, this was one of the main objectives communicated throughout this whole process when talking to all parties. They will have no influence on our brewing decisions, what we decide to do will be decided by us, for us. They are investing in Beavertown for Beavertown to be even more Beavertown. Why would they come in and change what we have achieved to date, that is exactly why they are investing in us. For us to continue to create and improve what we do and how we do it across all areas of the brewery. This is about taking our brewery, beers and people on a great journey, to push the boundaries of what we can achieve together and hopefully expand the beer market, getting more people drinking great beer.
Logan, will you still be with the business in ten years?
Yes, I absolutely intend to be here for the long term guiding the good ship Beaver. Bridget and I have put so much on the line and feel so proud to be where Beavertown now finds itself. This is an ambitious opportunity and I want us all to grab it with both hands and build upon the last 6 years of extreme hard work and dedication we have all put in and take Beavertown to a whole new level. This brewing industry is in an amazing place throughout the whole planet, people want to drink great beer and I want us to keep pushing the boundaries of the beer and where it is served and drunk.
You and Heineken both recently won tenders to supply beer to Tottenham Hotspur. Is that a result of this deal? Did you collaborate on the tender?
There was no tender for our partnership with Spurs. We worked with the Tottenham Hotspur team for nearly 2 years on it. It comes from the desire of Spurs to create an ultimate stadium experience at the new ground. It's going to include world-class food and beverage and we are honoured to be part of it. The stadium experience is going to be mind-blowing, second to none.