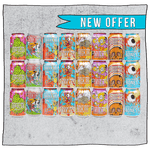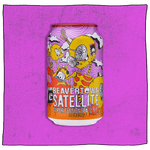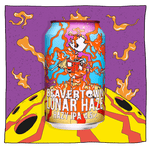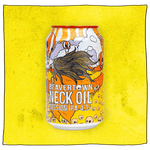 Case of core craft beers
Mixed Case
There's a new beer in town which makes our classic Case of Core Beers cosmically cooler - ...Read More

| | |
| --- | --- |
| x3 | Neck Oil - Session IPA |
| x3 | Bones - Lager |
| x3 | Gamma Ray - American Pale Ale |
| x3 | Satellite - Super Session IPA |
| x3 | Lupuloid - IPA |
| x3 | Bloody 'Ell - Orange IPA |
| x3 | Lunar Haze - Hazy IPA |
| x3 | Lazer Crush - Alcohol Free IPA |
When you place an order, you will receive a confirmation email with your order number. Once your order is dispatched you will receive a further dispatch email which will include tracking information.
Please note that the tracking number included on this dispatch email may take a few hours to show in the courier's system so don't worry if it doesn't show you the details of delivery immediately.
If you have placed an order for beer, an adult signature may be required when you receive your order. By clicking 'I confirm I am at least 18 years of age' at the checkout process, you are confirming that you are at least the legal age to purchase alcohol in your country of residence.
Please note, all our packages come in Beavertown branded boxes.
GREAT BRITAIN DELIVERY OPTIONS
DELIVERY OPTIONS

PRICE

Standard Delivery

3-5 Working Days

£4.95

Free Delivery on orders over £60 (exc. Northern Ireland)

Next Day

Order before 1pm (Mon-Fri excluding public holidays) and your order will be delivered on the next working day

£8

Channel Islands & Isle of Man

3-5 Working Days

£16
DELIVERY INFORMATION
UPDATING OR CANCELLING AN ORDER
Once your order has been placed, it is not possible to amend/add any items included in the order or change the recipient details or delivery address. However, it may be possible to cancel the order, should you need to do this, please email us webshop@beavertownbrewery.co.uk.
Once we begin the process of packing your order, amendments and cancellations will no longer be possible.
UNDELIVERABLE PACKAGES
If unable to deliver a package according to your chosen delivery option it will automatically be returned to Beavertown Brewery and a refund for the cost of the goods will be processed but not for the cost of shipping. Where incorrect address details or postcode are supplied, you may be required to pay an additional shipping charge to get this amended.
Beavertown Brewery cannot be held responsible for any loss or damage that may occur once your order has been delivered. Please note that if you choose to have your parcel left in a safe place or a communal area. If you receive an item that you did not order, please contact our Webshop team at webshop@beavertownbrewery.co.uk.
We can organise a collection for the incorrect items, but if you would like to keep the item that you have received, we may ask for payment of the products, depending on the products you have received.
Additionally, if the products are consumed we do reserve the right to charge for the incorrect products.
INTERNATIONAL & DELIVERY
We currently do not offer international shipping or shipping to Northern Ireland. Please contact us for a list of local distributors via email on webshop@beavertownbrewery.co.uk.
Returning an unwanted item
Clothes can be a lot like jetpacks. Sometimes you buy one on a whim, and then only realise when you take it for a spin that you've made a terrible, terrible mistake. We get it.
So, as long as the item is still in its original condition. Subject to terms and conditions of course.
Please always check the product information section on our website for the item you have ordered, to see whether the item is returnable.
You have a BREEZY 28 days from the day of delivery or the day the order becomes available for collection to return an item to us for a refund. The refund will then be issued to your original payment method.
We aim to refund you within 15 days of receiving the returned item.
If you start the returns process for an item during the above timeframes but you can't then return it to us for some reason within the 28-day time period, due to extenuating circumstances, then please get in touch and we'll try and sort it out - but any refund will then be at our discretion.
Anyway, long story short, we couldn't return the jetpack as it was in tiny little pieces.
Original Condition
Please feel free to try on an item, just as you would in a shop or inter-planetary department store, BUT please don't wear it for longer than that.
All items are inspected [by teams of inspectors] on return. In order to receive a full refund, all items must be returned to us unworn/unused and in the same condition you received them. This includes the original packaging with all tags and labels attached.
If an item is returned to us damaged, worn or in an unsuitable condition for re-sale [claw marks, laser burns etc] then we won't be able to give you a refund and we may have to send it back to you (and ask you to cover the delivery costs). Nightmare.
Transmission ends.
Responsibility
Returned items are your responsibility until they reach us, so please make sure they're packed up properly and can't get damaged on the way [ie during the hyperjump / on the A72 etc.].
As the parcel remains your responsibility until it arrives back to us, please ensure that you get proof of postage in case you need to contact us about your return.
Want to exchange an item?
Here's a ticklish problem. We're don't offer exchanges. All returned items will be refunded once they arrive at our warehouse. Need it in a different size or colour? Simply place a new order!
What will be the cost of my return?
Well, brace yourself because you will need to cover the cost of your return postage and ensure to obtain traceable proof of return through our returns portal.
Now unbrace yourself because the postage cost is only £2.80, which will be deducted from your refund amount once your return has been received by our team.
Onwards and upwards!