10 whole Earth orbits around the sun? We think that's pretty cool and definitely a reason to celebrate. That's why, on August 6th, we'll be crash landing at our taproom, with out-of-this-world food, rocket-fuelled music, and galactically good beers. We've got 24 lines pouring across the day, including 2 completely new birthday brews. So…let's party! 
We've clearly got a lot of work to do to plan this incredible party, but we can't help reminisce about all the good times we've had over the years. We've come a long way from that little North London kitchen, and we want to share our journey by telling you about our top 10 favourite Beavertown moments. Buckle up because it's about to get silly, crazy and just plain weird. In 3…2…1…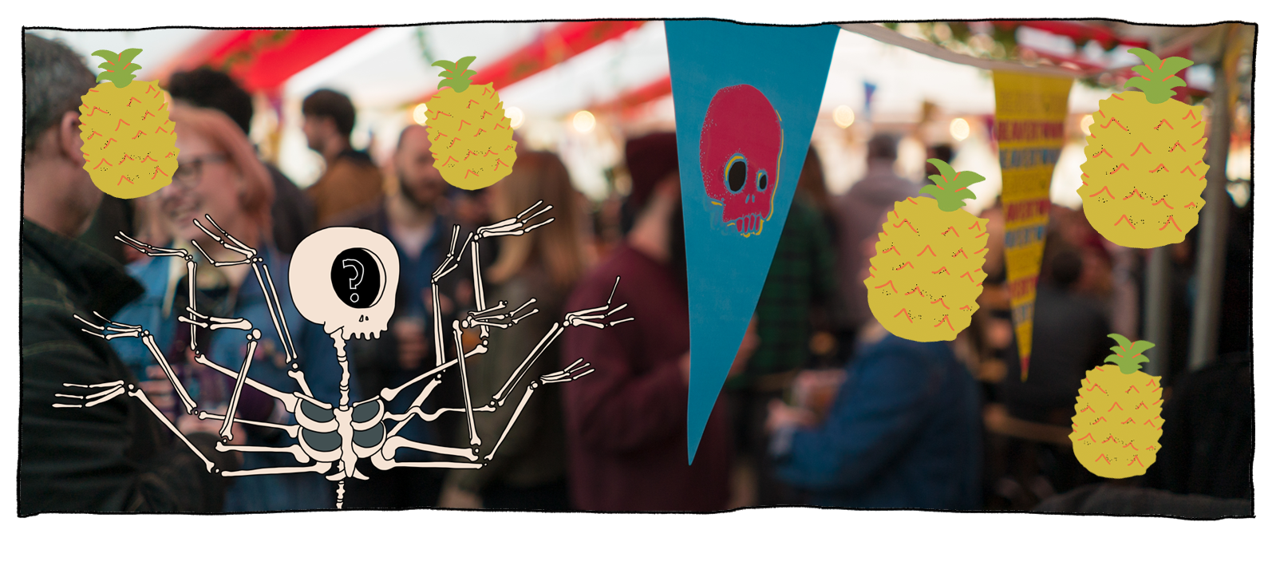 Many space moons ago, we were invited to a beer festival called IndyMan in Manchester. Every year, we tried to outdo ourselves at these festivals by having things like bigger bars or more DJs or crazier face paint (you get the picture). 
But this particular year, we had a bit of challenge. We were given a room called The Pineapple Room. It was great, but a bit smaller than what we were used to. How could we make this year's beer festival better than the last, with such a small space?  
Well, that's easy. We just made everyone that was coming to the beer festival bring a pineapple. And in return, we'd give them a prize.  
The festival kicked off on Thursday night and by Saturday morning, you couldn't get a pineapple in Manchester anywhere – except of course, behind the Beavertown bar in The Pineapple Room where they were piled high. 
So, after clearing Manchester out of pineapples, we did what we do best – brought them all back to London and made a beer with them. 
2. The Evolution of Gamma Ray – by Nick Dwyer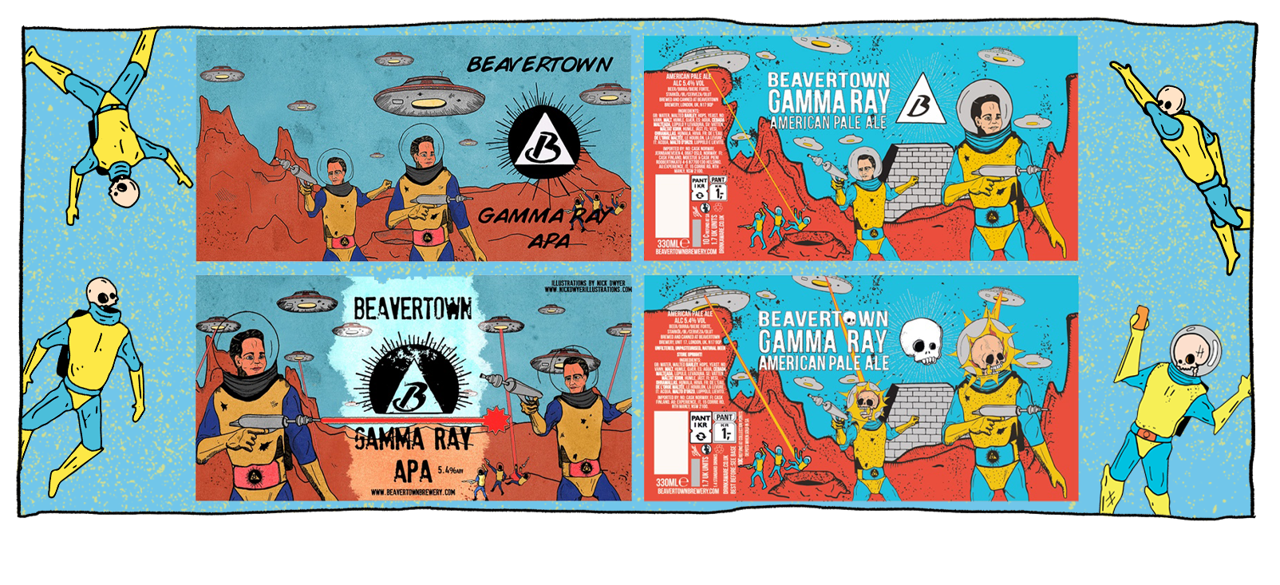 "It's mad how the Gamma Ray artwork started off – a pretty half-arsed drawing that I thought would be enough to call a cool sci-fi drawing, but it really was what started it all in terms of our visual brand – and to a lesser, but still important extent, our way of thinking about how we present ourselves in general. The first amazing moment as a Beavertown (sort of) employee, was people ignoring the name of the beer and calling it 'The Spaceman beer, please barkeep'. Numerous small (and one big) tweaks later, it's still pretty much the same design people know and seem to love."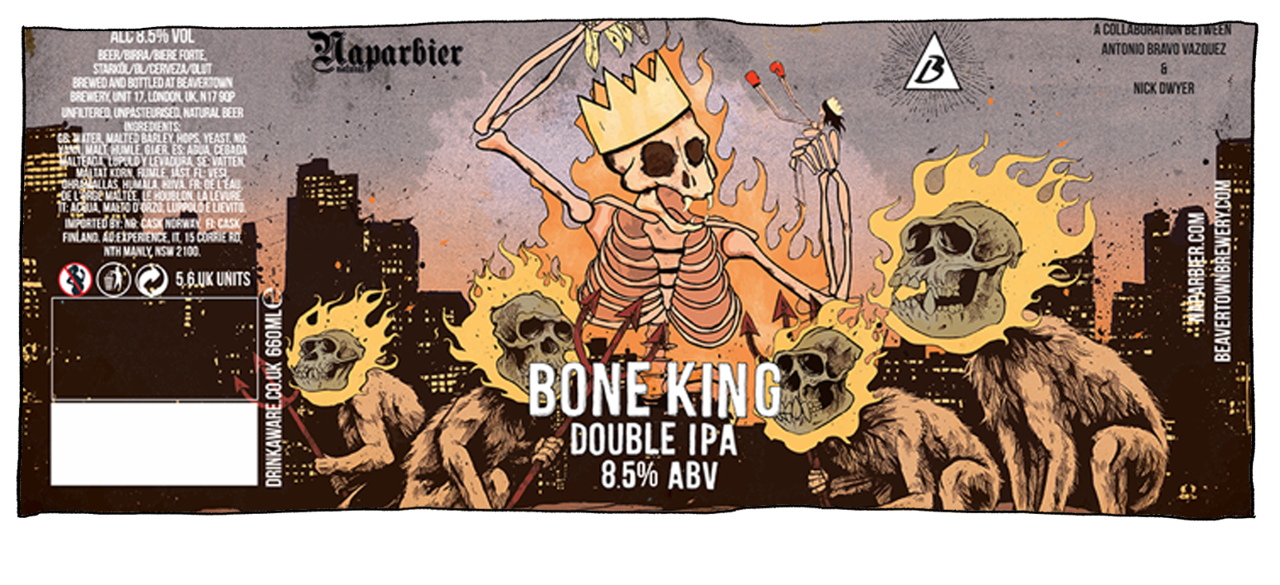 10 – Imperial Lord Smog Almighty – an imperial (11%) smoked porter that we then aged in Ardbeg casks. We're never scared of pushing boundaries. People either loved or hated this smoky, peaty behemoth.  
9 – Bone King – our 1st ever Double IPA, brewed in collab with Napabier. Clean, hoppy and seriously bitter, this became a blueprint for many DIPAs to come.  
8 – Bloody Notorious – brewed with our buddies at Boneyard, this mash up of our Bloody 'Ell and their Notorious TIPA was an orange juice hop bomb of a brew. 
7 – Brose – our first beer-wine hybrid. Is it a beer, is it a rosé? No, it's a Brose. This deliciously quirky beer almost didn't make it, as the brew accidentally got heated up before we bottled it. Luckily, once it had cooled down, and we retasted, the brew was as good as ever. 
6 – Heavy Lord – at 14.5% this was our biggest ever beer. Brewed in collab with 3 Floyds, we took our Heavy Water and their world renown Dark Lord and created a monster. Aged in Bourbon barrels on cacao and vanilla, it was a heavyweight, super satisfying stout to remember. 
5 – 8 Ball – one of our OGs was one of the first Rye IPAs brewed in the UK. It was brewed especially to pair with the pork ribs at Dukes, and though the ribs are gone, 8 Ball still comes out to play every now and then. 
4 – Lazer Crush – we knew for a couple of years that we wanted to develop an Alcohol-Free IPA, but we made the commitment to ourselves that we wouldn't do it until we felt like we could do it justice. With Lazer Crush, we did just that! As hoppy as Lupuloid, as boozy as a banana. 
3 – Double Chin – brewed for the first time when we turned 4 and repeated every year ever since. This true double version of Neck Oil mutates our most popular brew into a West Coast style powerhouse. 
2 – Gamma Ray – the spaceman beer. A true UK craft original and one of the most iconic brews. If it wasn't for Gamma we wouldn't be here today, and it is, and always will be, a brewery favourite. 
1 – Neck Oil – if you've discovered Beavertown in the last 4 years, chances are you found us via Neck Oil. Neck Oil was our very first brew, originally it was a best bitter inspired by the brewing heritage of the West Midlands, but very quickly the focus of the beer shifted to being something more modern, with session-ability right at its core. For years in Gamma Ray's shadow, Neck Oil now is our number one brew and can be found at over 5000 pubs and bars UK wide, not to mention down at your local supermarket. We always said we wanted to get great beer on every street corner, and Neck Oil is certainly going some way to achieving that.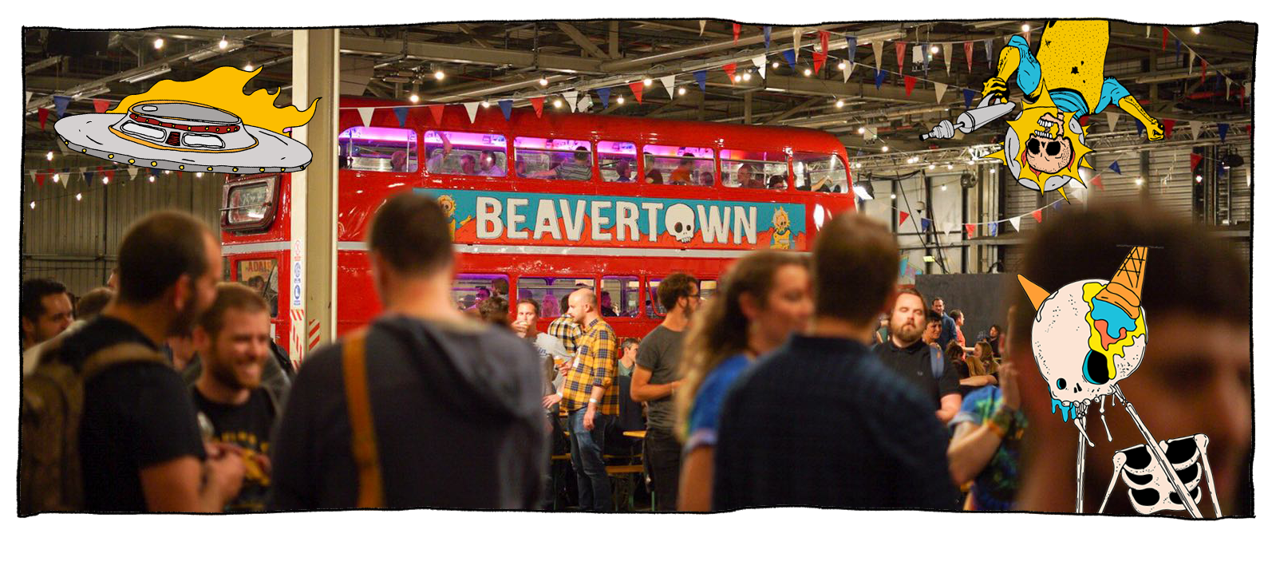 P-A-R-T-WHY? BECAUSE WE GOTTA! Over the last 10 years we've been invited to and hosted some epic parties. We've poured our beers for fans all around the world and, of course, in our hometown London. 
In 2016, we had our first shindig at our Tottenham Hale brewery. We were pretty stoked that we'd made it to 4 years old and decided to invite 30 UK breweries we'd grown up with to come pour at our taproom. Beaver My Valentine – as we called it – shocked us to say the least.  
3000+ people showed up to Tottenham Hale and there were queues back to the station. Nick Dwyer was shuttling up and down the line handing out cans for people waiting to get in. It was absolute madness but the desire to throw galactic-sized parties was ignited.  
That's when the Beavertown Extravaganza was born. A year in the planning, our first Beavertown Extravaganza opened its doors in September 2017. 77 Global breweries and their beer were flown in from all over the world, from New Zealand, the States and all over Europe for a 2-day mega-festival at Printworks, powered by sheer determination and the help of a couple hundred volunteers.  
Over those 2 days, we poured more than 600 different beers for nearly 10,000 drinkers. We partied hard, we hosted industry talks, DJs, a 20-food truck food village, an art exhibition, a London Bus, a dinosaur, an oompah band and a mariachi troupe. We had so much fun that we decided to do it all again in 2018!  
Alongside all that, we've held our yearly birthday party, bringing people together in the name of Beavertown.  
Now we're turning 10, we get to do that thing we love again – PARTY!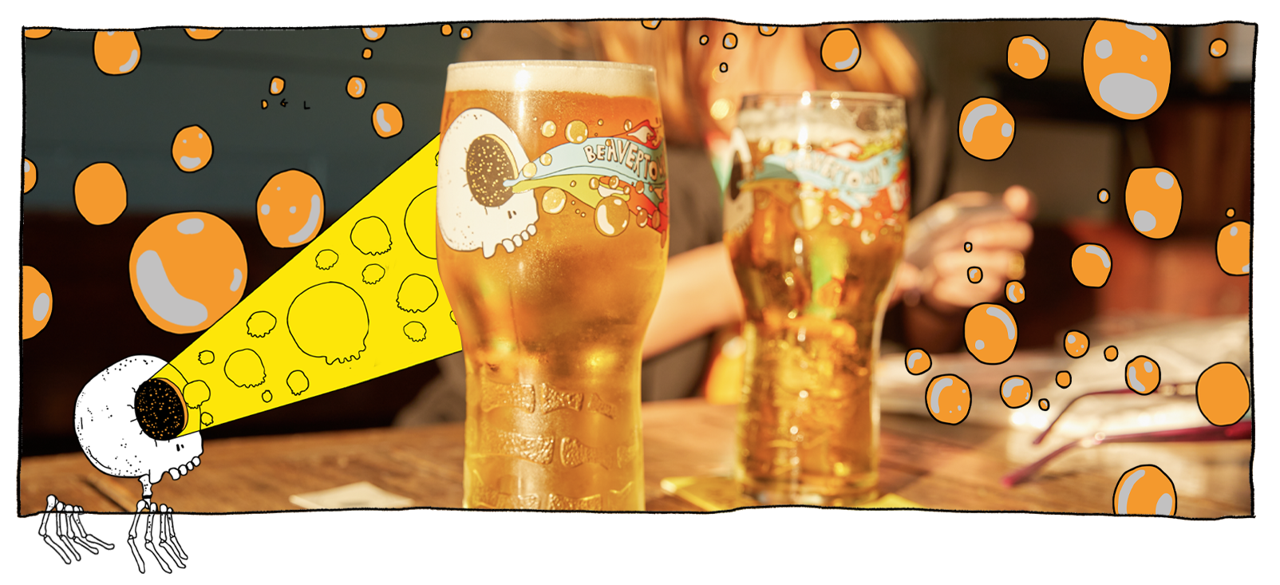 You know all those parties we talked about just now? Well, there's three things in common with all of them. Number 1 - they were awesome. Number 2 - we were there (obviously). Number 3 - we ALWAYS ended up gravitating towards a great lager and sticking with it for the majority of the party.  
So, in 2017, it dawned on us that we should have our own lager, and we started playing around. After a couple of small batches of Pilsner (that we called PilsNERD and PilsNERRD) we hit on Beavo, our first real go at a lager. 
But we're always learning and growing and, while Beavo was great, we knew we could do better. So, over the course of 2020/2021, we hunkered down and planned and prototyped and tweaked and, out of the mists of the pandemic, Bones was born in August 2021. 
A whole new take on what a Beavertown lager should be, based on exactly what you want out of a lager! Bones was brewed to be a simple, satisfyingly crisp and refreshing, super drinkable, low bitterness lager that you can go back to again and again. 
So, look out for Bones in pint form at your local pub, or, of course, in can form on our bloody webshop!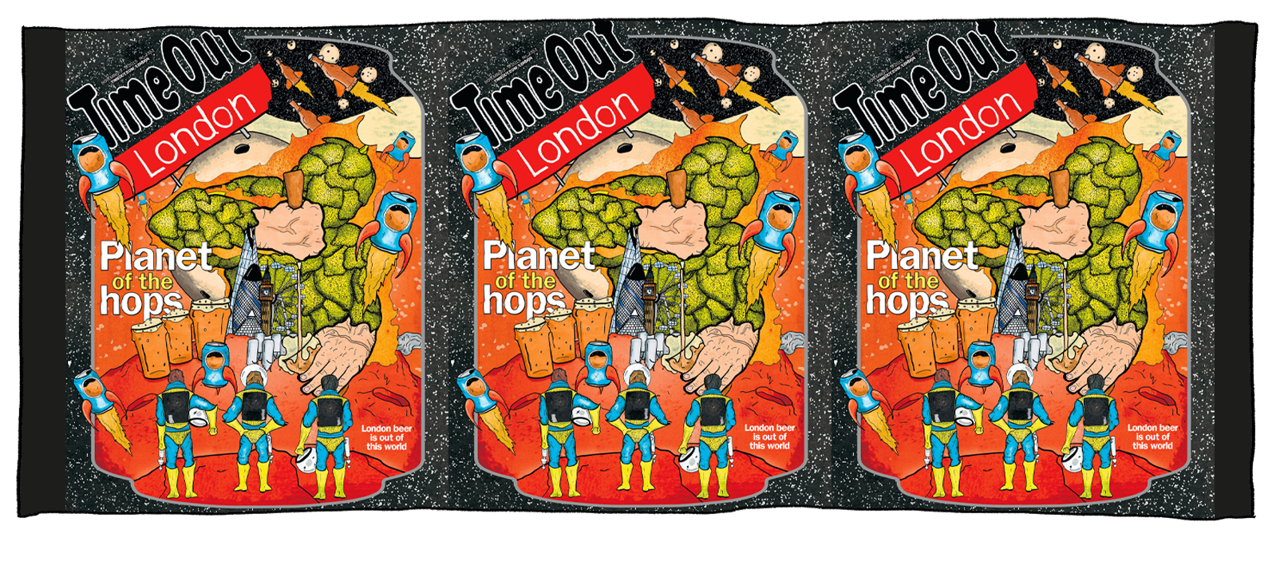 We were asked to design the cover of Time Out in 2015.  
"…I mean, this a really big thing to be involved with, let alone designing as an individual. We were very much immersed in, and arguably leading, the charge of experimentation in both brand and beer in 2015 so looking back, it was apt to feature us on the front cover "Beer Issue". It was another moment where I looked up from the parapets and thought jeez this is going so well." – Nick Dwyer, Beavertown Creative Director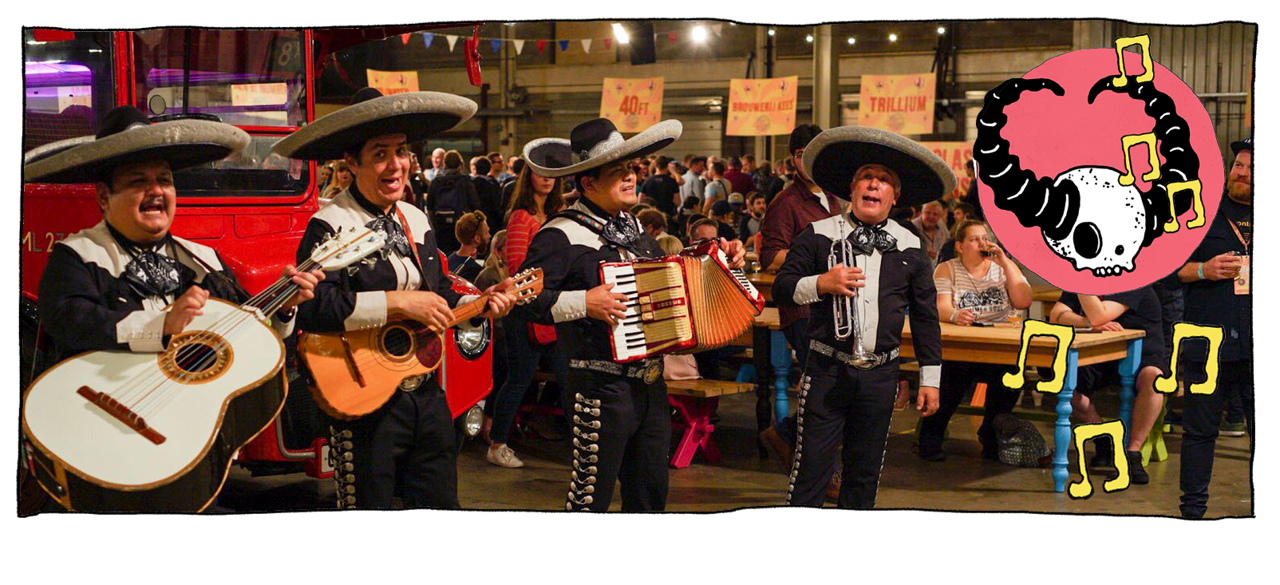 It's never a party without good music. So, we've created a playlist to celebrate being 10.  
8. THE BUILDING OF BEAVERWORLD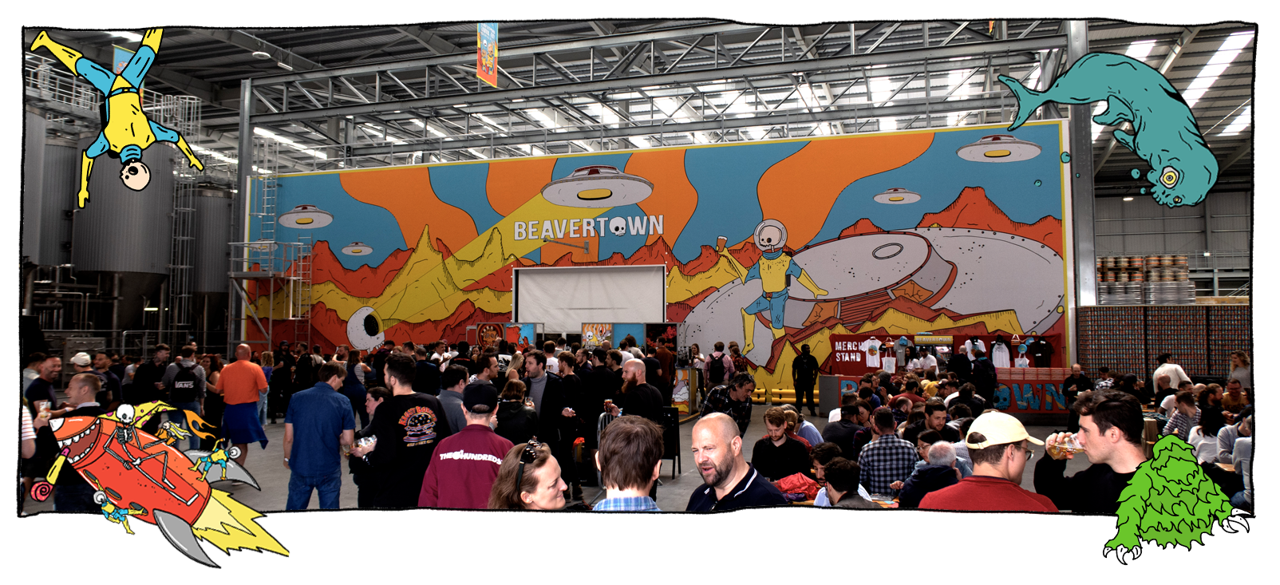 Our biggest project to date and something we're most proud of – building Beaverworld. We moved from brewing 45,000 hectolitres at our taproom site, to 450,000 hectolitres at Beaverworld. Pretty awesome, right? 
The scale of the project is something that still impresses us, but more than that, the opportunity and flexibility that Beaverworld gives us to brew styles and recipes old and new and distribute them further and wider is what really getting us excited.  
The sip, the gulp, the swallow. The experience of Beavertown. All of that leads us to where we are today. Here's to another 10 more years!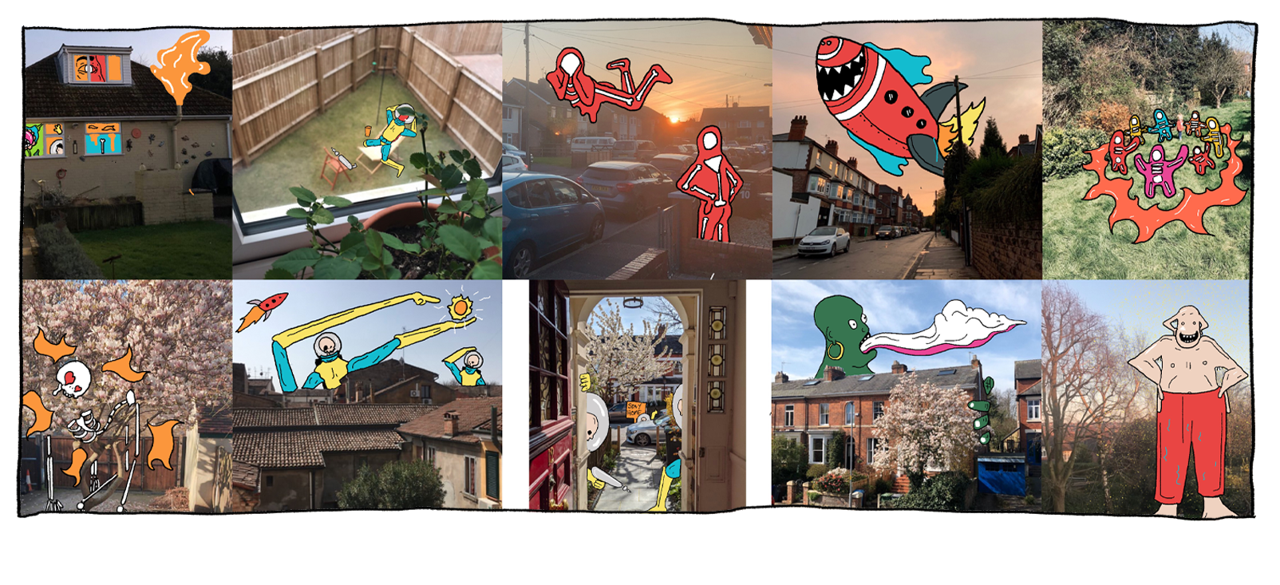 The pandemic. Something we'll never forget. When everyone was confined to their homes with nothing to do, we asked everyone to send us their lockdown views. We then put them through our special Beavertown spaceship machine thingy (a.k.a Nick Dwyer and his creative mind), and out came some pretty great stuff. 
We loved this project because it was a great way to connect and interact with people in our own little crazy unique Beavertown way.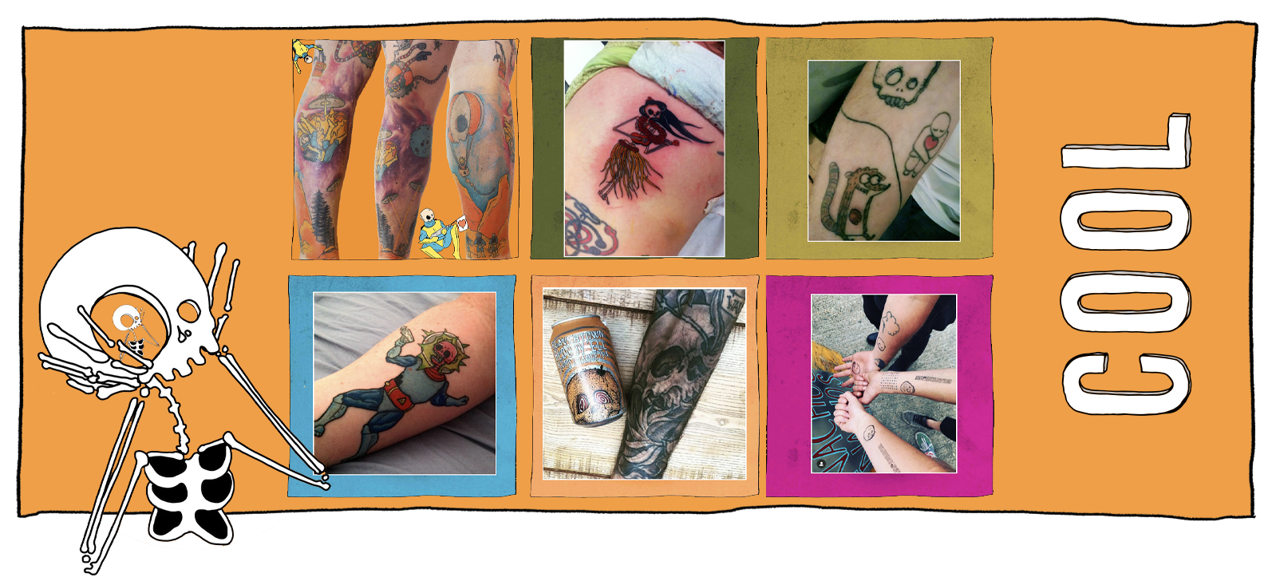 People get tattoos of our artwork. We repeat. PEOPLE GET TATTOOS OF OUR ARTWORK!