BEAVERWORLD - BUILDING THE DREAM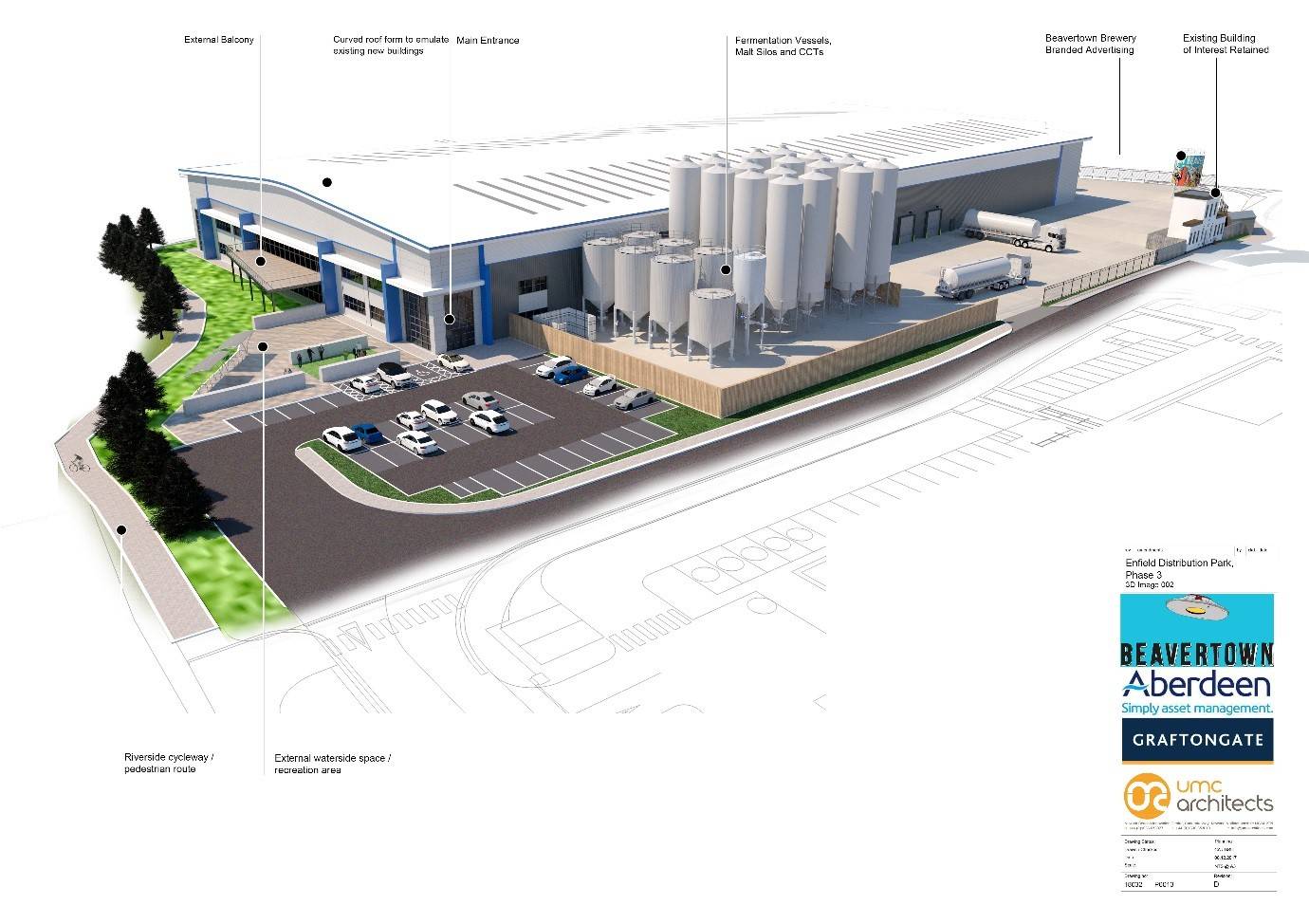 "As John Lennon once stated: "A dream you dream alone is only a dream. A dream you dream together is reality." Beaverworld is the culmination of 7 years of blood, sweat and tears by all of Team Beaver over the ages. I am so proud of what we have all achieved and immensely excited about what we are about to create in Enfield. Our aim has always been driven by our excitement and passion for making more than just a beer. We've always wanted to give our beers a personality and a heartbeat, make them tactile and real. What we are going to create at Beaverworld is going to be exactly that. We are going to build the most sophisticated, quality driven brewery, with the heartbeat of an amazing visitors centre and experience. The brewery will take people on a journey of the senses. Visiting the brewery will be an unforgettable experience! Beaverworld will help us on the way to achieving our mission of getting great beer on to every street corner for the thirsty masses! I can't wait to sink a few pints with you all in March 2020 when we open the doors and let you into our dream!!

Logan Plant – Owner & Founder of Beavertown Brewery.

It seems like ages ago that we announced that we were finally going to be building our dream, Beaverworld, a funfair of fermentation and good times. Since then there's been a load of stuff going on in the background with very little to show for it, that is until now.

We're now in a place where we've nailed down a load of moving parts and we can start giving you realistic timelines and specifications for all the pieces that will come together as Beaverworld.

Let's start with the site its self. Our Hallowed ground. This beautiful new brewery is going to be up in Ponders End, on the river Lea Navigation, 4.5 miles north of our current Tottenham home. The whole plot totals 6 acres with a 129,000 sq. ft building on the site of the former Ediswan Factory. Ediswan, or the Edison & Swan United Electric Light Company moved into the site in 1886 to produce tungsten filament light bulbs. Amongst many other inventions, the first electronic valves were developed here by Sir Ambrose Fleming, establishing Ponders End as an important centre for the manufacture of electronics for the 20th century, including, the first cathode ray tubes for the newly established BBC Television Service. This great heritage, and hub of innovation is something we respect as we ourselves aim to create our own long-lived legacy, so as part of the build we will be retaining a portion of what remains of the Ediswan site.
The site is in a prime spot, with a large external area overlooking the river that we can't wait to have a beer in, but also an ideal location for transport and as a delivery hub, with quick access to both the north circular and the M25 and Ponders End station half a mile walk away. As Beaverworld sits nicely on the river visitors will be able to cycle or walk up the river path to the brewery from our current home in Tottenham Hale.
Working with the developer Graftongate's team (check out their visuals below) the project will involve a complete new build from the ground up and work on the foundations start in January 2019. The build, which will comprise space for a brewhouse, packaging space, warehouse, logistics hub, offices and visitor centre, is scheduled to be completed, ready for us to move in around September/October 2019. From there we have a nice long run up to get the brewhouse installed, commissioned and tested thoroughly and we plan to have Beaverworld beer ready to be delivered to pubs by April 2020.
We intend Beaverworld to be our forever home, so we have spared no expense on getting all the fixtures and fittings just right. After a thorough process we've committed to working with 2 of the industry's leading manufacturers Krones and KHS on the Brewhouse, Cellar, utilities and Packaging solutions respectively.

Our bespoke Krones Steinecker Brewhouse is made up of all the latest equipment and will deliver the best extract efficiency, flavour consistency and importantly energy efficiency available, with the extra flexibility we require as a brewery with a varied and extensive range of beers. Once up and running we can push the kit to deliver a maximum capacity of 500,000hl a year and allow us to brew in 150hl batches, to get more great beer out there than ever before.

The five vessel brewhouse will comprise a Variomill, Mash Conversion vessel, Lauter Tun, Wort Kettle, Whirlpool and an Equitherm energy recovery system. In the cellar Krones will be providing 38 FMT's (fermentation maturation tanks) ranging from 150hl – 600hl in size along with centrifuge, filtration and an automated dry hoping dosing system as part of the overall scope of supply that will also see Krones manage all utilities, site supervision, product engineering and mechanical and electrical installation.

Mark Heath, Sales Director for Krones UK said "Krones are delighted to be the selected supplier of this brewhouse project at this new showpiece location in Enfield. Flexibility was a key requirement and we have succeeded in customising the equipment to suit Beavertown's requirements and accommodate their wide-ranging portfolio – both currently and for the future."

Now obviously there's no point brewing beer if you can't package it, and for that we've engaged KHS. The complete KHS can line will have the capacity to fill up to 30,000 cans per hour (330ml) and the process will be fully automated from start to finish. Palletised cans go in, get depalletized, rinsed with ionised air, filled, sealed, coded and packed (in cartons or in trays) prior to palletisation. The filling process centres around the computer controlled KHS Innofill DVD filler, with 50 filling heads, with electronic flow metering to accurately control can contents. The machine delivers several design features to ensure hygiene and flavour stability, and a highly efficient CO2 saving can purging system with minimal DO pickup (Dissolved Oxygen).

The KHS keg line can fill up to 160 kegs per hour (30l) and the ability to be expanded in the future to an ultimate capacity of 240 kegs per hour. Empty kegs are fed on to the line where they are de-palletised, washed (external and internal) and sterilised prior to filling precisely filled to a pre-defined volume, then capped and coded prior to being palletised.

Andy Carter, General Sales Manager at KHS UK Ltd. Said "KHS are very pleased to be selected as the supplier of all packaging equipment at the prestigious new Beaverworld facility in Enfield. Attention to detail around quality, hygienic design and flexibility during production of kegs and cans were key factors in the Beavertown teams decision. KHS equipment is suitable to handle Beavertown's diverse range of beer style and ensure it reaches consumers in perfect condition."
So that covers the beer, but at Beavertown we are about way more than that. Beaverworld allows us to bring the drinker into our world better than ever before with a 12,000 sq. ft, fully "Beaver'd up visitor centre, comprising of a main taproom space with full length views into the brewery and external, along with a small professional kitchen, that will be available for food traders and external caterers popping up at the taproom. We'll have a fully stocked Beavertown store, with dock sales of beer and merch, and at last we will be able to run brewery tours! As part of the design of the brewery we've planned gantries and walkways so that we can give people the fully immersive Beavertown experience. True to form, the whole thing is going to take on the themes, colours and concepts you have come to expect from our designs as well, working closely with the architects and builders to make sure it's as pretty to look at as it is fun to be in.

So, as you can see our ambitions for the new space are characteristically high, with the aim to work with people from the local community and beyond to host events and gigs. Who knows, we might even host a wedding one day!
Our support to the trade will increase as we use the space offered by the new brew site to open our Beaver University to give all the bars, pubs, shops and restaurants out there serving Beavertown beer the opportunity to come up to the brewery for a day of education and information about us as a brewery and all of our beers.
It's worth mentioning too that as part of the full Beavertown experience our current home in Tottenham Hale will be retained and repurposed to allow us to expand our Tempus Project barrel ageing programme and delve deeper into the alchemy of wild yeast, bacteria, wood and time. We'll also continue to run a Taproom at the Tottenham brewery on Saturdays and one day hope to have a Beaver Boat that will chug happily between the two taprooms up and down the river on its own little mini booze cruise.
The scale of the project is something that still impresses us, but more than that, now that we can see things coming together, the opportunity and flexibility that Beaverworld gives us to brew styles and recipes old and new and distribute them further and wider to connect with and stimulate our drinkers like never before is what is really getting us excited.