'Tis the season to be jolly! Fa-la-la-…you know the rest. 
It's that time of year again! Is it just us, or is time going really fast? Maybe steering our spaceship through that black hole wasn't a good idea…but you know what IS a good idea? Christmas drinks.
Whether you're staying home or heading off-planet this year, Christmas isn't Christmas without a festive drink (enjoyed responsibly, of course). And where better to enjoy said drink than the most Christmassy pubs London can find?
1. The Sherlock Holmes, Trafalgar Square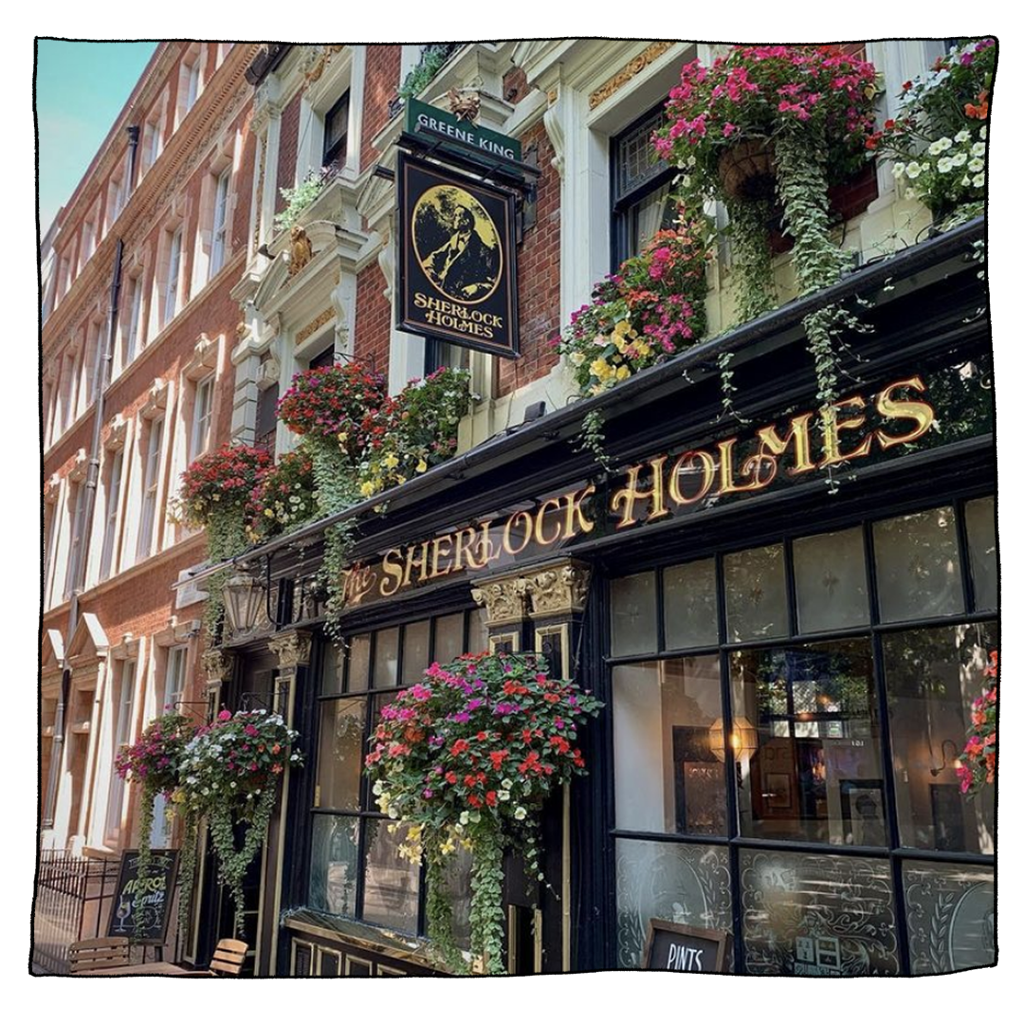 Address: 10 Northumberland St, London, WC2N 5DB
Tube station: Charing Cross or Embankment
The cosmic mystery of where to get a festive drink is solved. Themed after the famous, fictional detective, this pub has a bunch of history behind it and has a good range of Christmassy food and drinks. 
It even has a secret recreation of Holmes and Watson's study inside. And it gets bonus points because it serves Beavertown beer – served at absolute zero, of course.
2. The Spaniards Inn, Hampstead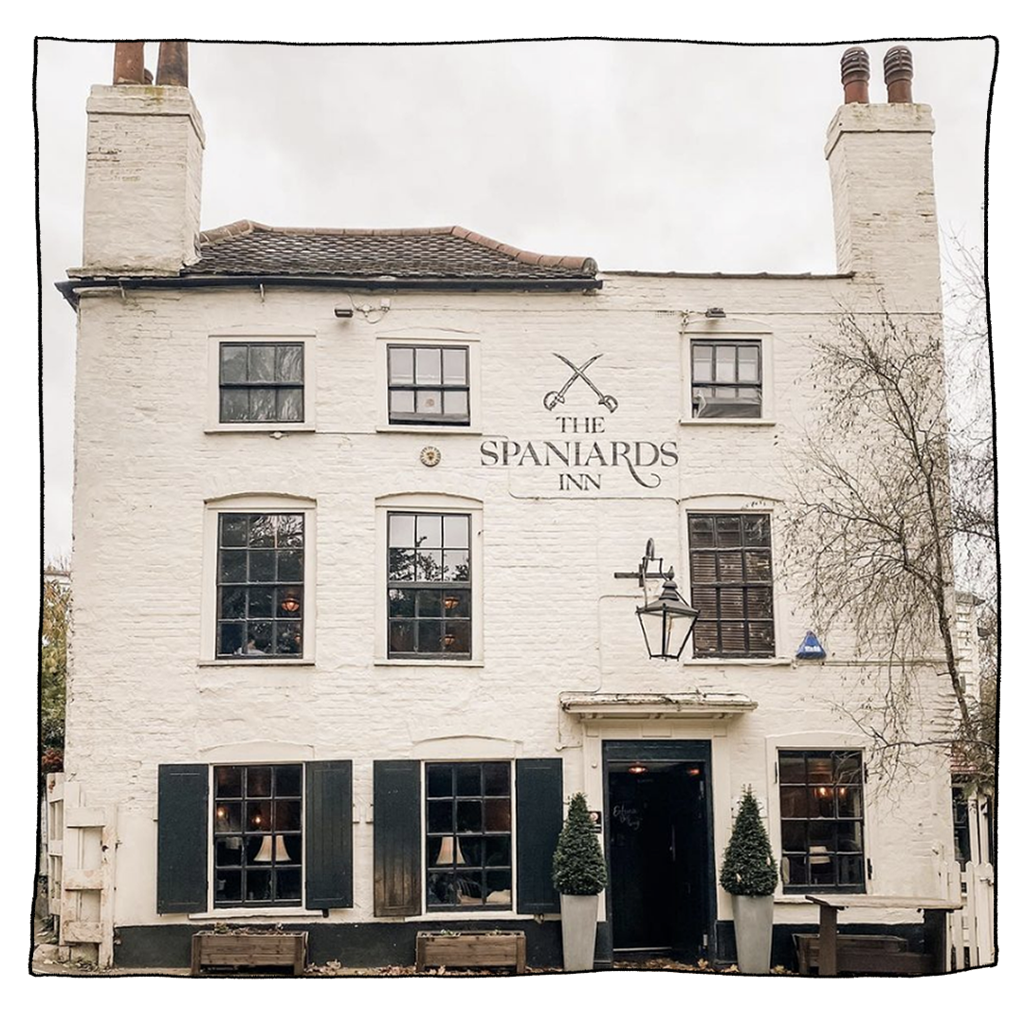 Address: The Spaniards Rd, London, NW3 7JJ
Tube Station: Hampstead or Golders Green (+ a bit of a walk)
Getting the Christmassy vibes right isn't rocket science but The Spaniards Inn knows exactly what it's doing. This is a proper old English pub and is pretty famous if you're a London history buff. But even if you're not (we're more into Sci-fi) the cosy vibes of this place are totally worth your time. 
We're talking wood-panelled walls, exposed wood beams, and an open fireplace – post-spacewalk bliss. The festive menu here is also top-notch so make sure you book that table ASAP.
3. The Avalon, Clapham South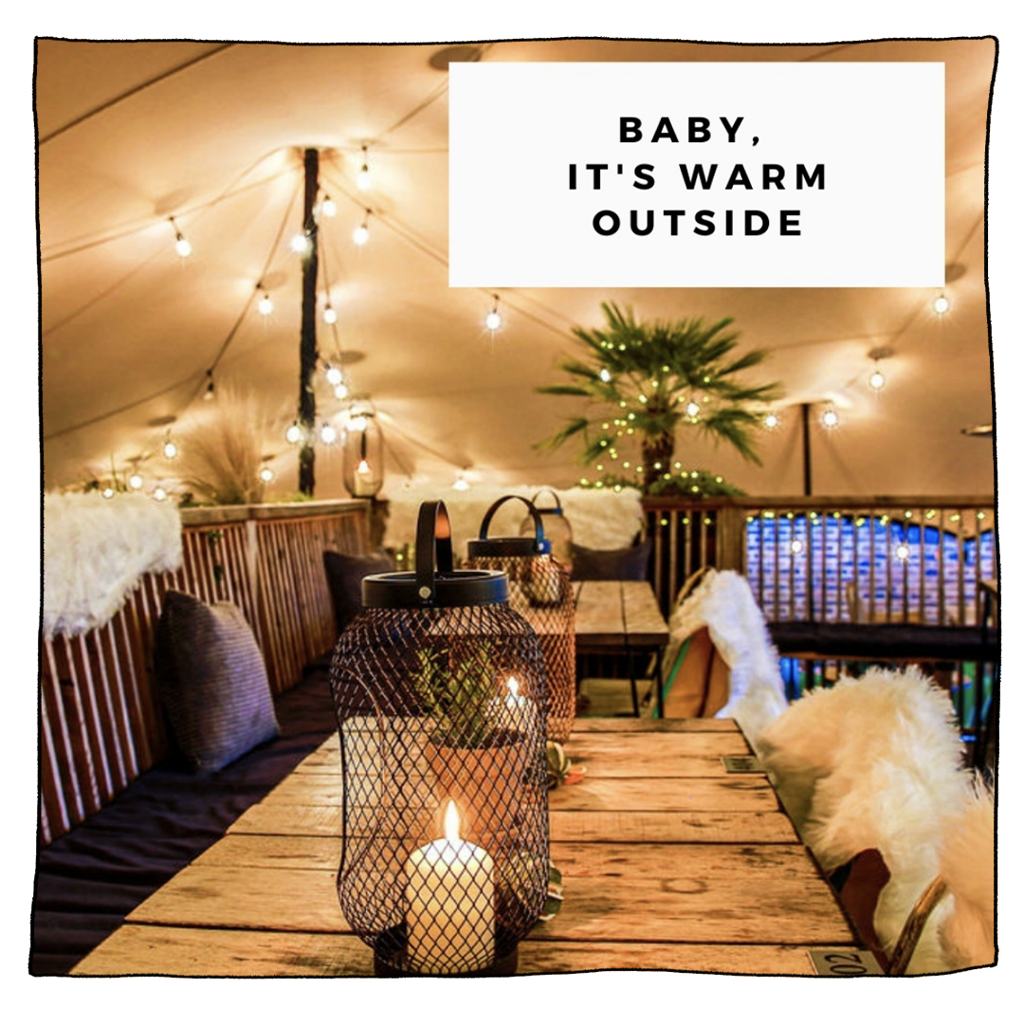 Address: 16 Balham Hill, Clapham South, London, SW12 9EB
Tube station: Clapham South
Calling all foodies – make sure you beam in that reservation at The Avalon in Clapham. We say that because this red-brick boozer has some of the best, out-of-this-world Christmas pub food and the place books up at the speed of light! 
They're loud and proud about their use of local produce and supporting British farmers – all the more reason to visit and grab some good grub before heading out on your next interstellar adventure.
4. The Holly Bush, Hampstead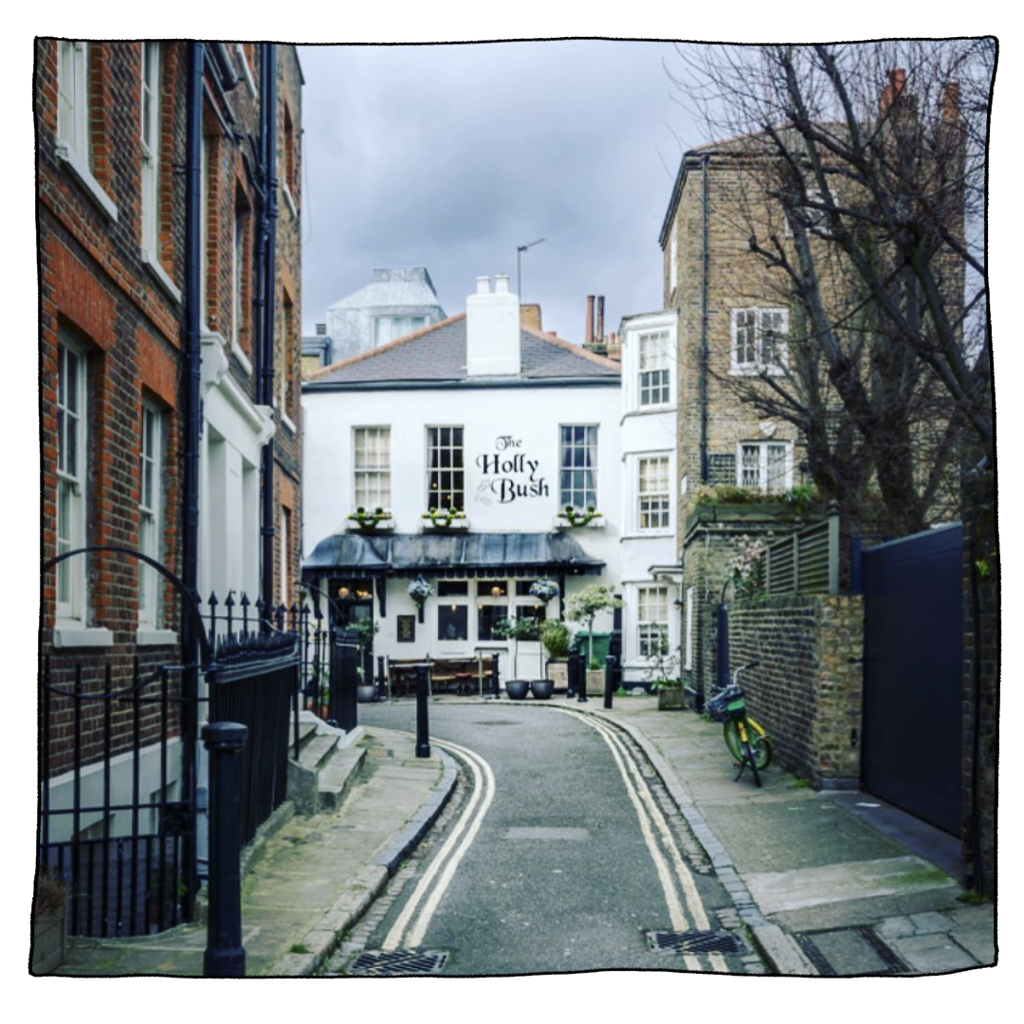 Address: 22 Hollymount, Hampstead, London, NW3 6SG
Tube station: Hampstead
Hampstead sure has its fair share of festive drinking spots, doesn't it? 
Evergreen, everywhere, and prone to jabbing your hands through gloves, holly is synonymous with Christmas. So where better to blast off to for a Christmas drink than a pub called The Holly Bush? This pub oozes festive charm and is like something out of The Holiday – warm, cosy interiors, an open fire, a good range of drinks, and stellar food.
5. The Churchill Arms, Kensington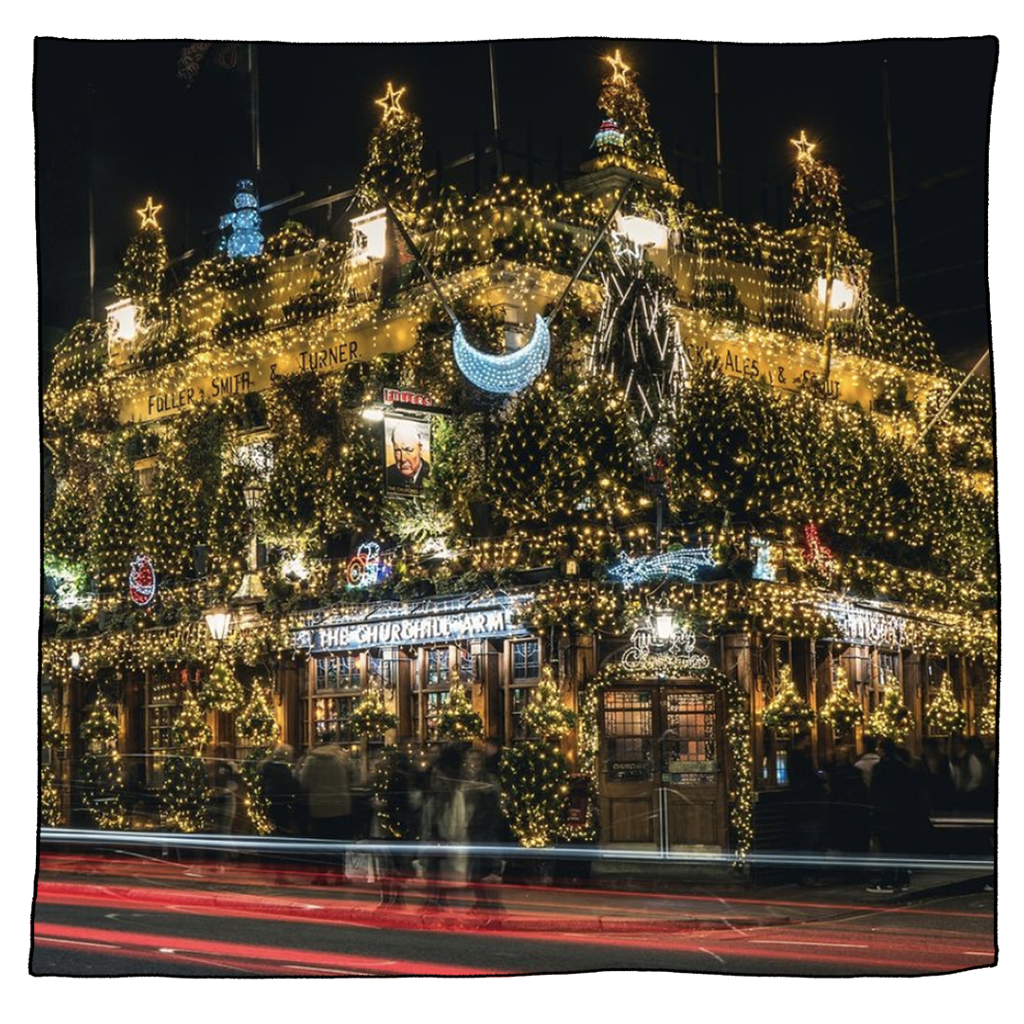 Address: 119 Kensington Church Street, W8 7LN
Tube station: Notting Hill Gate
This Kensington pub isn't known for doing things in half measures. When it's not covered in £25k's (yes, 25) worth of fresh flowers, it's decked out with over 80 Xmas trees and 21,000 fairy lights. It's basically a giant space beacon beaming "CHRISTMAS IS HERE" to the stars.
It's been rated as London's most Christmassy pub by…basically everyone and is exactly as cosy as you'd expect inside too.
6. The Spread Eagle, Hackney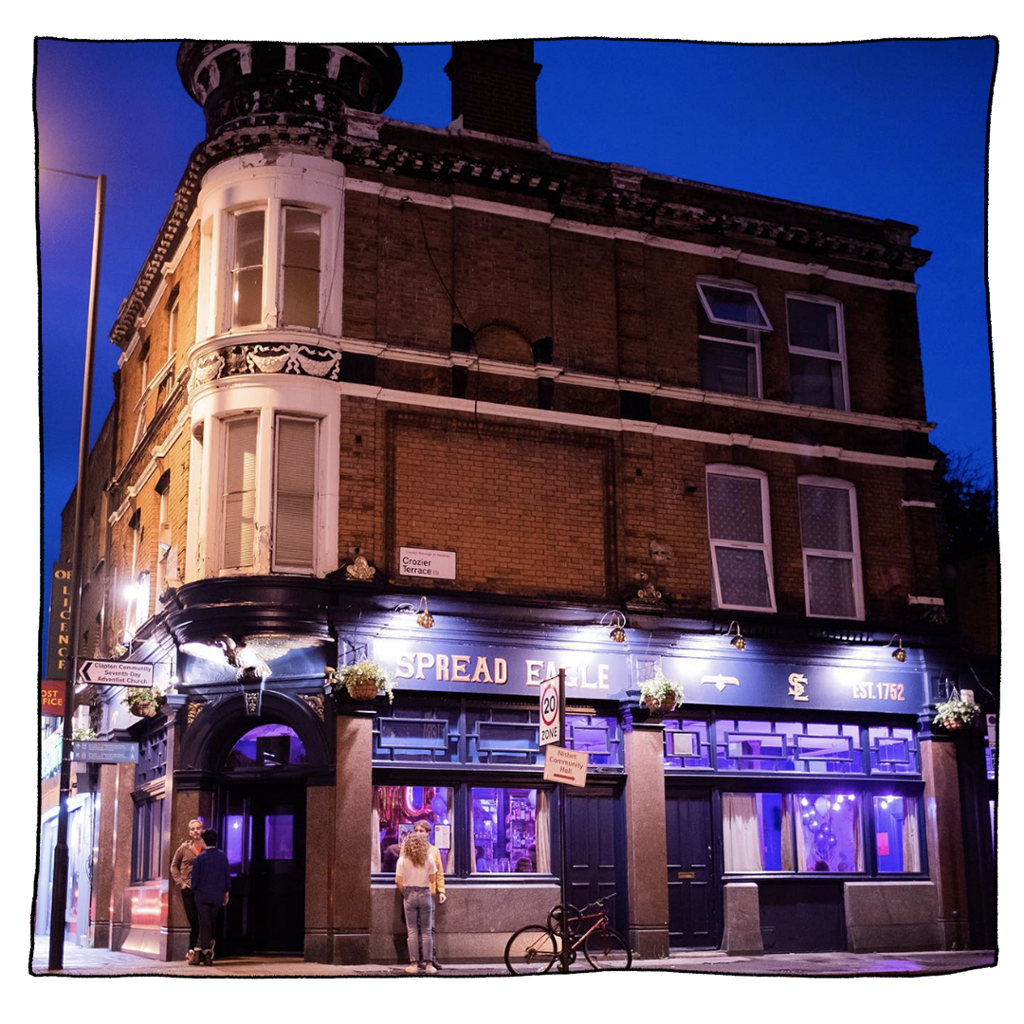 Address: 224 Homerton High St, London, E9 6AS
Tube station: Homerton
When it's colder than Pluto at Christmas (that's really really cold FYI), it's time to find a cosy pub for a bite to eat and a pint.
Another one of our faves with Beavertown beer on tap, The Spread Eagle pub is London's first EVER fully vegan pub! And it serves up all the Christmas cheer during the festive season. Don your Santa astro-suit and Xmas jumpers and cosy up to enjoy some delicious food and an interstellar drink.
7. The Lemon Tree, Covent Garden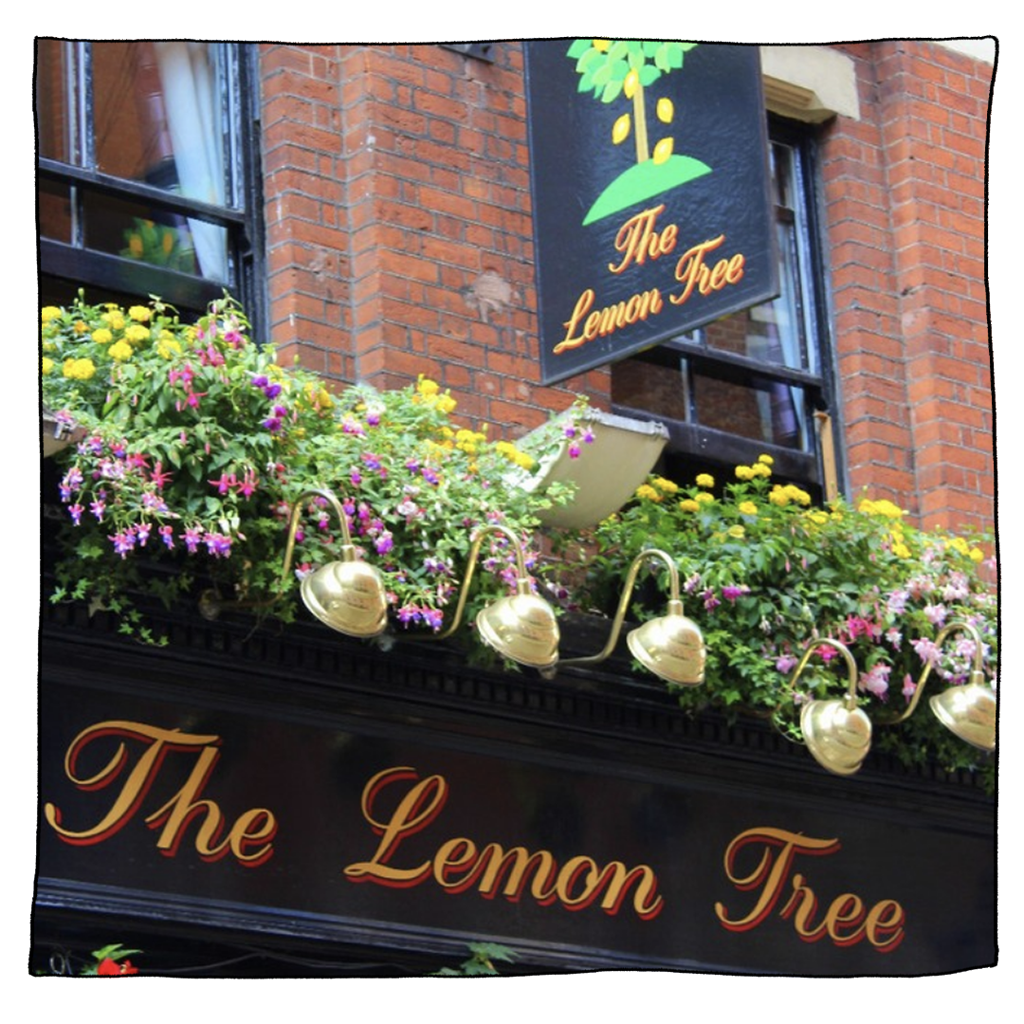 Address: 4 Bedfordbury, Covent Garden, WC2N 4BP
Tube station: Leicester Square or Charing Cross
Christmas shoppers, intergalactic explorers, and late-night theatre-goers not ready to wrap up the festivities – The Lemon Tree in Covent Garden boasts some seriously good food and a cosy atmosphere.
This small pub tucked away in a backstreet near The Coliseum theatre also serves some seriously out-of-this-world beer – wanna know how we know? Because Beavertown is on the menu!
8. Simpson's Tavern, City of London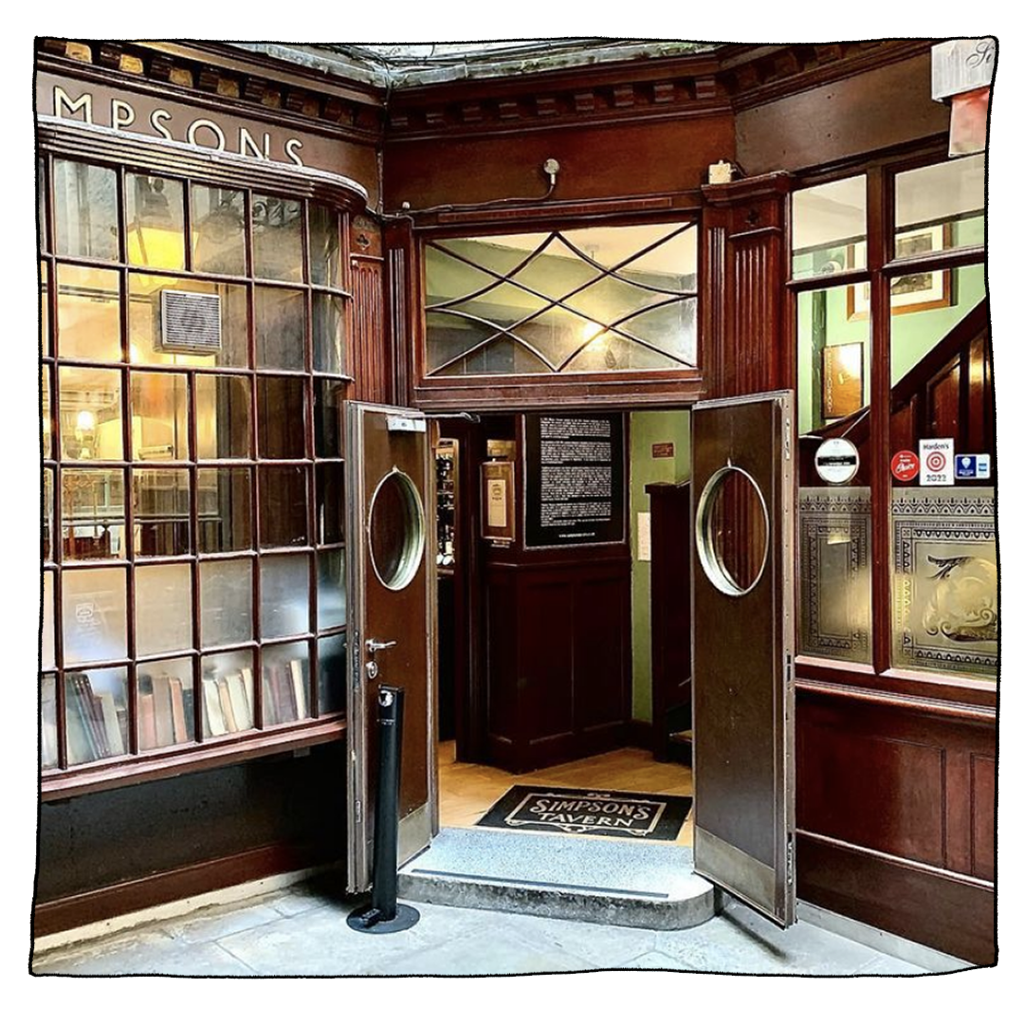 Address: Ball Court, 38½ Cornhill, London EC3V 9DR
Tube station: Bank
Speaking of small pubs, Simpson's Tavern near Bank is definitely on the dinky side. It describes itself as a Dickensian institution (fancy!), is one of London's oldest pubs, and basically lets you step back in time (although we find wormholes a little more effective). 
They serve some out-of-this-world food (all served with a free sausage apparently) and has a real cosy atmosphere to remind you of Christmases past. So break out the Xmas jumpers – it's time to get festive!
9. Argyll Arms, Oxford Circus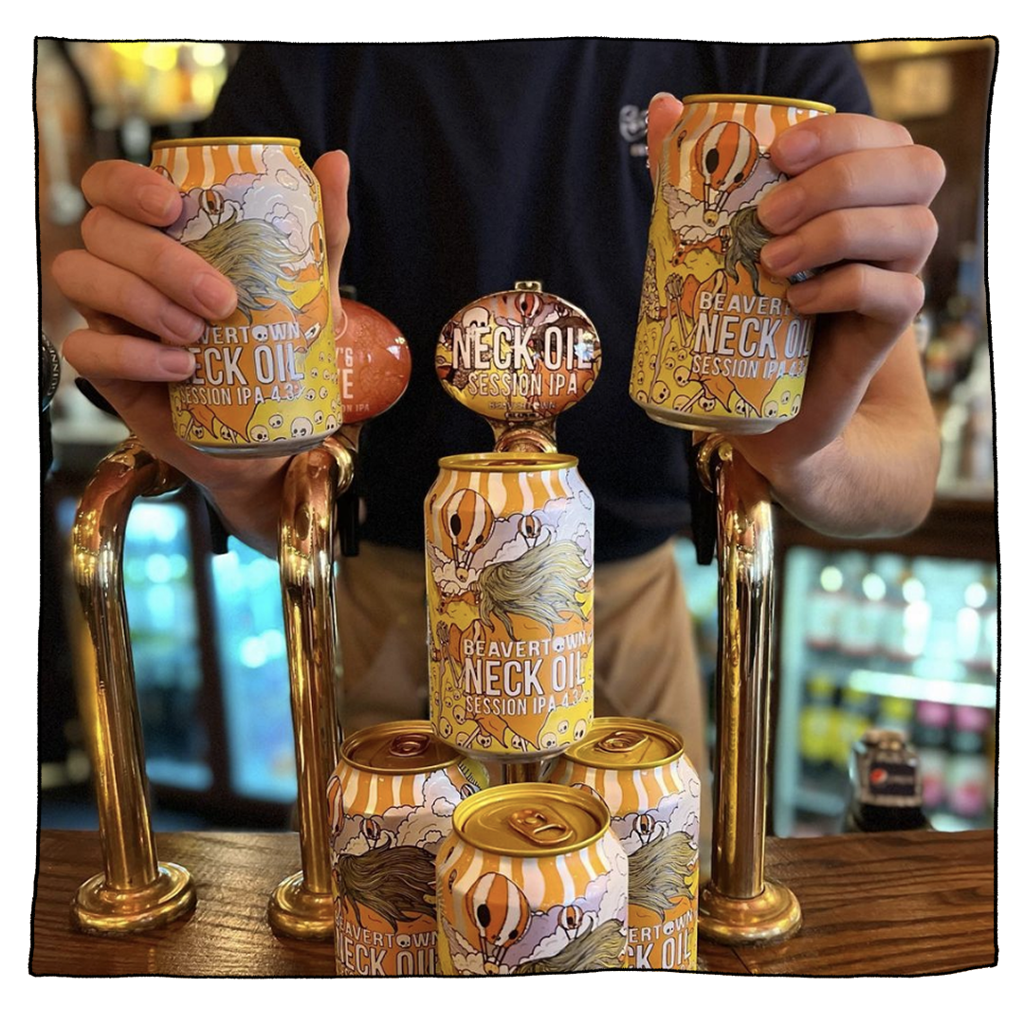 Address: 18 Argyll St, Greater, London W1F 7TP
Tube station: Oxford Circus
After a long day zooming around on your rocket ship searching for presents, you'll need a spot to park up and relax. When you need to escape the chaos of Oxford Street (it's like driving at warp speed through an asteroid field), head to the Argyll Arms. 
We might be biased because they serve Beavertown here but this cosy 19th-century boozer is full of festive cheer. It has tasty food and pies, private nooks, so you can hide from the shoppers, and a secret tunnel to find when you're refueled and ready to get back out there. 
10. The Beavertown Taproom
Address: Unit 17, Lockwood Industrial Park, Mill Mead Rd, London, N17 9QP
Tube station: Tottenham Hale
We couldn't give recommendations somewhere to grab a festive pint without mentioning our own taproom, could we? Embark on an intergalactic mission to join us at the Beavertown mothership – where we come in peace, pints and cans.   
As well as a delicious beer in hand, expect live music, new local food vendors every week, and sporting events. It's basically the best place this side of the Milky Way.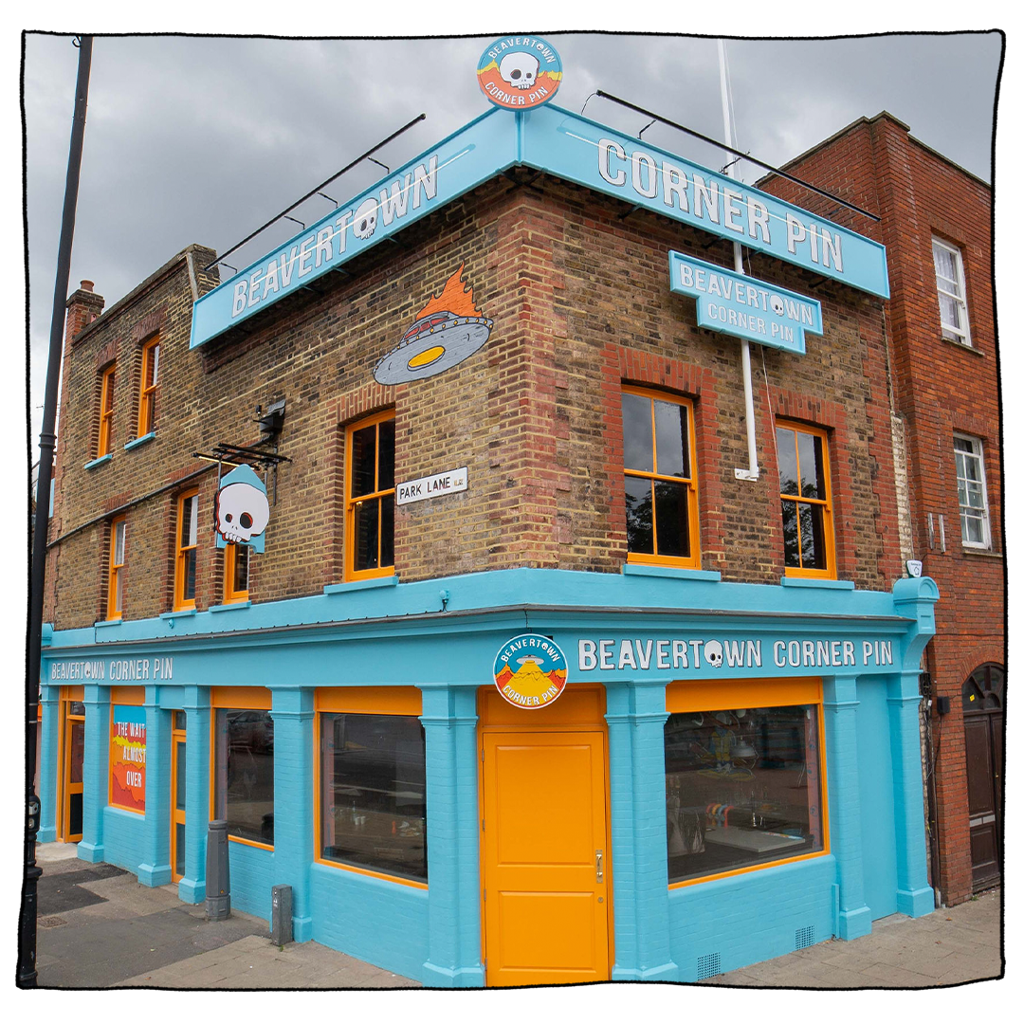 Address: 732 High Rd, London, N17 0AG
Tube station: White Hart lane
Another shameless plug of our own location – check out Corner Pin when you're next parking your spaceship in Tottenham (but no drinking and flying, okay?). 
Spread out over 3 floors (with a total suntrap of a beer garden in the summer), we're serving up delish food and all of our classic beers alongside some limited edition specials and brand new releases (including our new Xmas beers – ooh!). The perfect way to be fully immersed into the vibrant Beavertown universe.
If You Prefer Drinking at Home
We might have Halloween at our core (just LOOK at our artwork), but we love Christmas too – who doesn't, right?! – so we have plenty of festive ways to fill stockings and beam down the best of Christmas cheer.
If chilling on your spaceship is more your speed, explore our out-of-this-world range of Christmas beer and gifts – perfect for those 'could really do with a can' moments and to spread the festive joy with your nearest and dearest. 
Annd our world-famous, yes world-famous, we said so, craft beer advent calendar is back! Filled with 24 interstellar beers, from old favourites to new exclusives, to count down the days to Xmas Eve (and Xmas Eve Eve and Xmas Eve Eve Eve).
Got a mate who doesn't celebrate Christmas or looking for that perfect Beavertown gift? Check out our gift guide for beer lovers – zapped straight from our mothership to your doorstep.