Wave goodbye to gluten – we're on a one way ticket to the gluten-free galaxy!
If you have to avoid gluten in your day-to-day diet, it probably means you struggle to enjoy a beer with your mates, as most beers use grains that contain gluten. But gluten-free beers are blasting off and expanding the horizons of everyone who loves a good brew.
We're gonna answer all of your questions about gluten-free beer, and show off our interstellar, easy-drinker – Critical Mass – while we're at it. 
FIRSTLY, Can people with coeliac disease drink Critical Mass?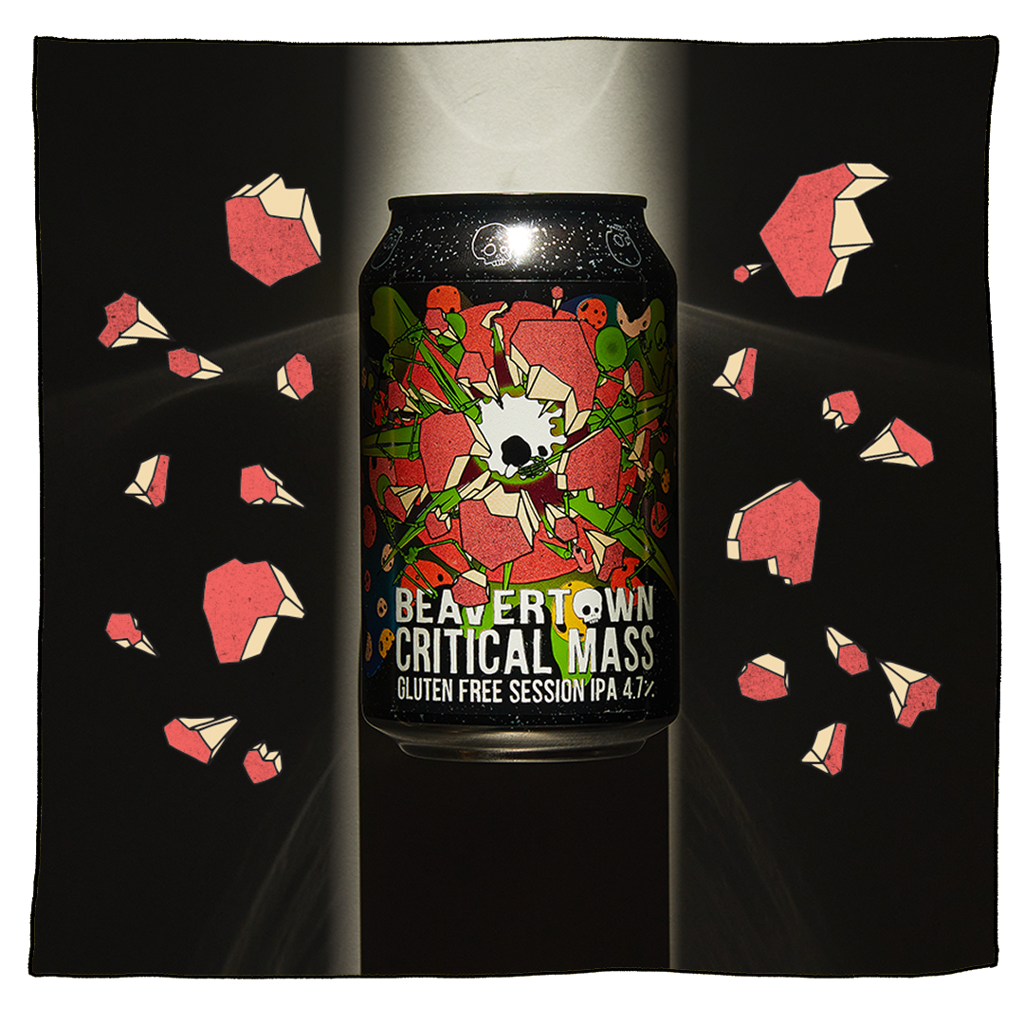 If you have coeliac disease (a severe autoimmune condition), or another condition that means you can't eat any gluten at all, Critcal Mass may not be suitable for you. But those with lower-level intolerances or minor allergies will probably be fine.
As we mentioned, the parts per million (ppm) levels of gluten in our gluten-free beer are very low, thanks to our Nanobot enzymes, but it's still made with malts that aren't naturally gluten-free, and is also not brewed in a fully gluten-free environment.
Not to be a downer, but it's entirely possible that this beer isn't suitable for you in the same way that someone who's allergic to nuts would take care with products not produced in a nut-free environment.
What is this gluten stuff anyway?
Not to get too technical or anything but gluten is a type of protein found in grains like wheat and barley (key beer ingredients). It binds bread together and gives structure to lots of foods.
As good as gluten can be, it's not so great for some people – gluten can cause health problems for those with an intolerance, allergy, or celiac disease. This is why more and more gluten-free options have been popping up lately – hooray!
Yep. Most beers contain gluten. A lot of beer brewing uses grains like wheat, rye or barley to add flavour and help with fermentation (the process that makes beer alcoholic) – all of which have those pesky gluten proteins. 
How are gluten-free beers made?
There are two different ways that gluten-free beer can be made which are safe for people with gluten intolerances.
The first way is to use ingredients that absolutely do not contain gluten. This means using something like rice, corn, or buckwheat instead of wheat, barley, or rye in the brewing process. The other way involves a bit of special science – a clever enzyme that breaks down the gluten proteins during fermentation. 
What does gluten-free beer taste like?
Most of the flavour from beer comes from the hops, but the grain used does impart some tastebud-tingling flavours and textures onto the beer as well. 
These are some (but not all) of the grains you can commonly see in beer ingredients: 
Wheat – gives the beer a foamy head and a fuller body (Hey! Mind out of the gutter).
Corn – makes a beer smooth and adds a tasty sweetness.
Oats – offer a creamy feel and smooth texture.
Rice – doesn't add a flavour itself. Instead, it helps build a nice bitterness profile. 
Rye – adds a complex and crisp taste and gives a beer a little spiciness – yum!
Some people complain that a gluten-free beer doesn't have the same mouthfeel (yes it's a word) as other beers – to which we say: you clearly haven't tried the BEST GF beer yet!
What's the best gluten-free beer?
Floating among the stars of the gluten-free galaxy, Critical Mass was born. With its smooth taste and juicy fruit notes, all without the gluten, we think it's the best gluten free beer in the universe.
This is our first EVER gluten-free beer and we're pretty proud of it. It's got all the hoppy, citrusy, juicy flavour of a good IPA just without those pesky gluten proteins!
How is Critical Mass gluten-free?
We make Critical Mass the same way as normal beer but with one big difference. We introduced a handy little enzyme into the fermentation stage, that zaps away all those pesky gluten particles.
To ensure that it's compliant with current laws and regulations, we had Critical Mass tested by an independent UKAS-accredited lab, to ensure that our parts per million (ppm) sit below the legal requirement of 20 ppm of gluten. We can confirm that Critical Mass was reported at less than 10 ppm.
Confusing stuff…but in human words, that means Critical Mass is officially classified as gluten-free!
The next time you need to wet your whistle with pals down the pub, or even just fancy kicking back on your spaceship, you don't need to miss out on the fun – make your interstellar drink a can of Critical Mass Session IPA. All the flavour of a great IPA, without the gluten (and the tummy ache).