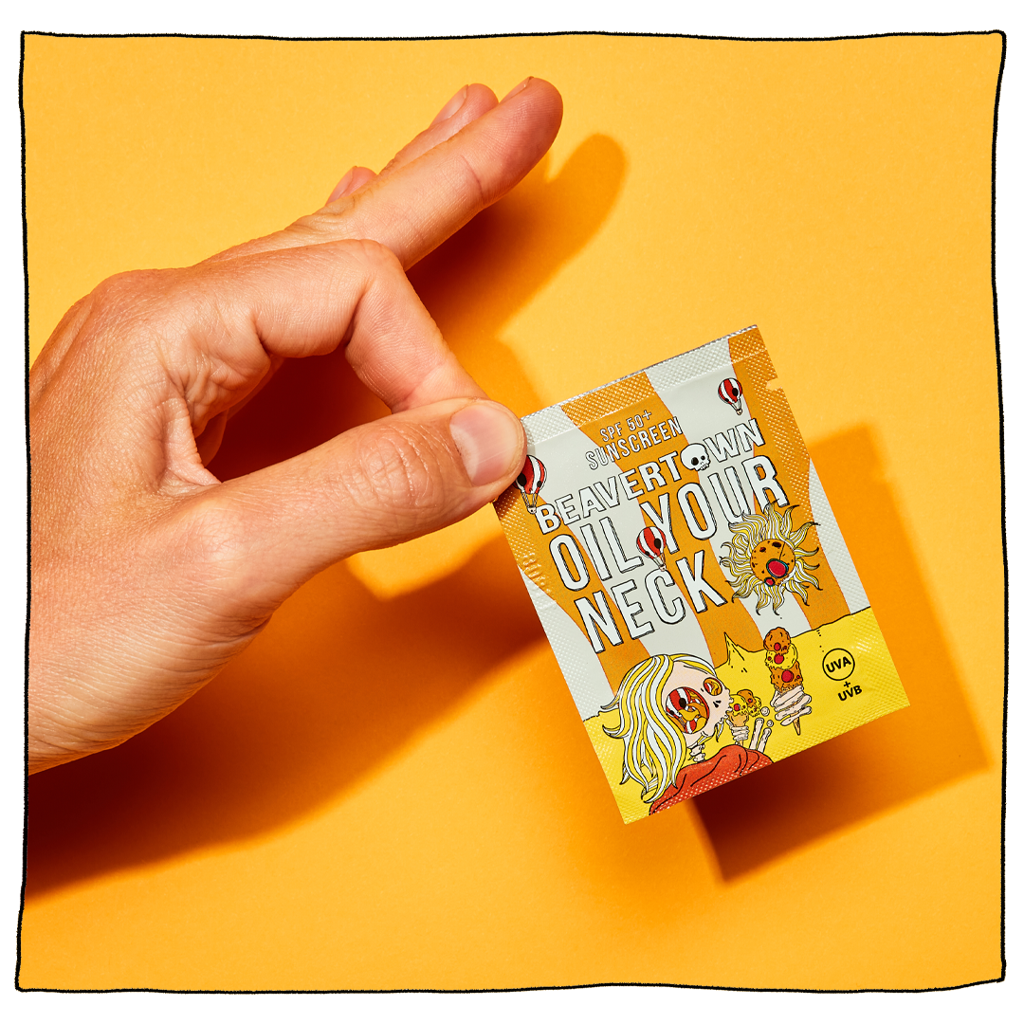 There's no getting around it. We love the giant ball of blazing gas in the sky. We really do. The second we see it, our brain tells our body to run to the nearest beer garden, stand with a cold beer in our hand, and say sentences like: "Well, this is the life", or "It's like being in Spain", or "the Sun's hot today". We are not a complicated species. However, when it comes to protecting ourselves from that same cosmic heat source, we, as a nation, are not good. Did you know that only 18% of Brits wear skin protection while enjoying a drink in the sun? Come on humans. It's not hard. It's a perfect ball of hot plasma, heated to incandescence by nuclear fusion, you're gonna need some protection.
When we heard this, we at Beavertown were faced with two options: We could either, at enormous risk and company-crippling cost, attempt to cool the sun down. OR we could create our very own range of [non-drinkable] factor 50 sunscreen, ideally based around the name of one of our best-selling products. And after a brief chat with the scientists and financial experts we came to a decision. 
We've teamed up with LifeJacket Skin Protection to give away 10,000 free 'Oil Your Neck' factor 50 sunscreens over the course of the summer, available in beer gardens and pubs across the UK. We'll also add a couple thousand free sachets into webshop orders for good measure*
Beavertown. We've got you covered... in sunscreen.
Check out the list of participating venues below:
The Sun 47 Old Town, London, SW4 0JL
The Boater 9 Argyle St, Bathwick, Bath, BA2 4BQ
Old Crown 188 High Street, Digbeth, Birmingham, B12 0LD
Herbert's Yard 49 Austin Way, Longbridge, Birmingham, B31 2QR
The Flapper 8 Kingston Row, Birmingham, B1 2NU
The Full Moon 1 North St, St Paul's, Bristol, BS1 3PR
Propyard 39-46 Feeder Rd, Bristol, BS2 0SE
STEAM Clifton Down Station, Whiteladies Rd, Clifton, Bristol, BS8 2PN
Tank Room Cains Brewery Village Stanhope St Liverpool, L8 5XJ
The Landor 70 Landor Rd, London, SW9 9PH
Hatch 103 Oxford Rd, Manchester, M1 7ED
The Minories 64-73 Minories, London, EC3N 1LA
Beavertown Tap Room Unit 17, Lockwood Industrial Park, Mill Mead Rd, London, N17 9QP
The Corner Pin 732 High Rd, London, N17 0AG
Prince William Henry 216-219 Blackfriars Rd, London, SE1 8NL
Waggon & Horses 109 Church St, Brighton, Brighton and Hove, Brighton, BN1 1UD
Hyde Park Leeds 2 Headingley Lane, Leeds, LS6 2AS
The Distillery, Birmingham, B16 8AE
*Free Oil Your Neck sachets in orders offer begins 10/07/23 until stocks last.