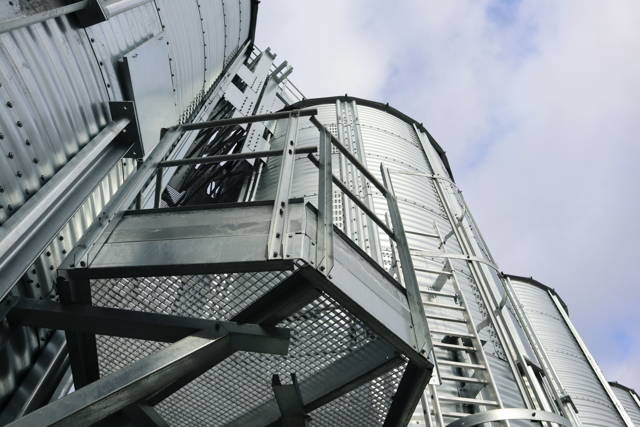 "Life moves pretty fast, if you don't stop and look around once in a while, you could miss it." [Ferris Bueller]
How do you conceptualise an obsession? Obsessions manifest from a taste, a glint and a step into the unknown. But to create a theory or project around an obsession? This, if mastered and corralled is the most compelling of urges. My obsession is beer. A healthy obsession based on a joy of flavour and experience. The flavour of the liquid, the joy of the company and the environment but always harking back to the flavour, the sip and the next sip. I never really drink for drinking sake. I want every mouthful to mean something. From the swirl of the glass to the smell as it hits your nose, then bang! The gulp, the swallow, the adoration. Cheers my friends!
Beer to me always meant so much more than "just beer" and when the youth and revelry of 9 years in the buzz of the music business faded the beat of the beer dream lived on. At 31 one dream was done. An epiphany, searched for and found in a New York BBQ joint, meant another had just begun.
It was just over 7 years ago now that I started brewing from a 25-litre rice pan in my kitchen, annoying Bridget and the kids and stinking out the house with boiling wort.
Bridget and I began working on a dream based upon the 'obsession'. We put everything we had on the line. The house, our savings, the kids (we stopped at the kids). We ploughed every ounce of our relationship in to the dream. Dedication, energy, blood, sweat and tears were invested into building Duke's and plugging the original 650 litre brewhouse into the kitchen next to the smokers.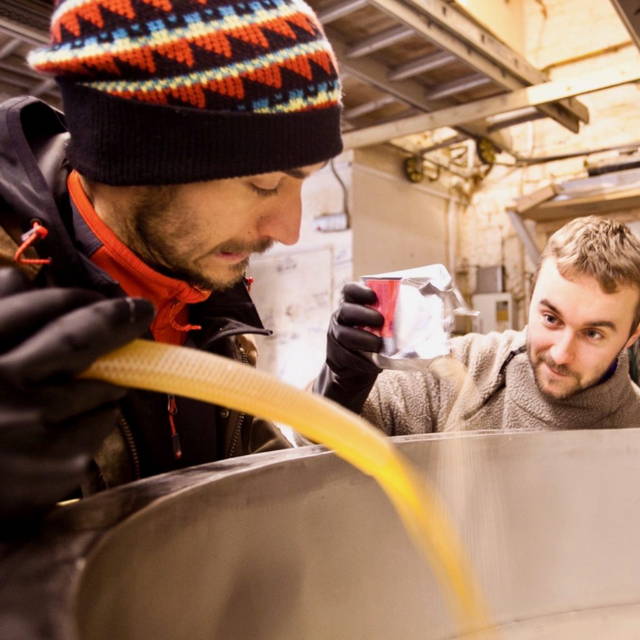 We moved in to De Beauvoir Town and served our first Beavertown beers out of Duke's Brew & Que in February 2012. The concept built on the foundations of smoky, low & slow BBQ served in house with beer that mashed together the memories of good old fashioned Real Ale from my youth and the new inspirations from the big flavour hit IPAs and Pales I'd drunk whilst touring the US.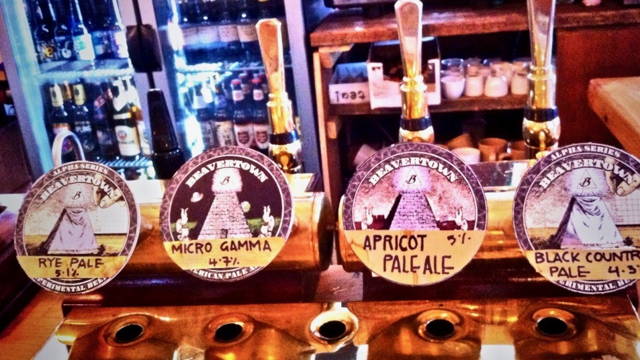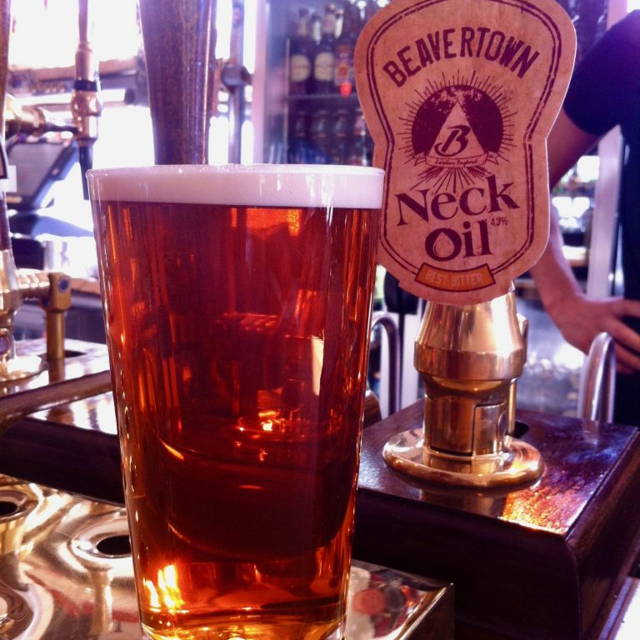 The thrill and pride of serving people your hard-crafted wares I still hold dear. I have never experienced a feeling like it. People were desperate for it and we couldn't brew enough. At that point we knew we wanted to get this thing that people seemingly couldn't get enough of, out to as many places as we could get it. Admittedly at the time that was Hackney, but back then Hackney felt like a very big place for our little brewpub.
We began to bottle and label our batches by hand and send the beers out of Duke's into the wild world. Quicker than we could ever have predicted our beer was all over East London. We were playing catch up as hard and as fast as we could. Part of that involved moving our home, first to the 'lock up'/shed half a mile from Duke's where we had managed to invest in a few extra fermenters and then to our first dedicated 2000 sqft external brew site in Hackney Wick. That was one of the first really difficult decisions, we had to take Beavertown out of Duke's to grow.

Up to this point, the team at Duke's pitched in and helped me with everything. It was one of the best decisions I ever made. What we expected to be a little enterprise that kept itself ticking over was not so little anymore and getting more and more serious by the day. Every bit of profit we earnt at Duke's was being invested into extra tanks and hiring new members of Team Beaver. The beer started to fly and with it our plans and visions grew. The whole industry was morphing right in front of us.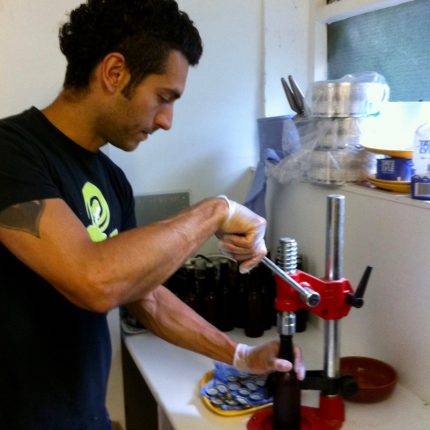 The beers from our Hackney Wick space were now being drunk in small pockets across London and the UK. Beavertown was now becoming something far bigger than I had ever imagined.Within 3 months of moving the original Duke's brewery set up, I started to plan for a new site to meet the insatiable demand. We found a great space in Tottenham Hale. A 10,000sqft double unit, 5 minutes' walk from Tottenham Hale tube station. Beavertown needed to grow. So, I went back to the banks to raise more capital, there was no way I was going to stand still in Hackney Wick. With two years of running Duke's and Beavertown successfully and the bank forming an appetite to invest in us seriously, we managed to raise £1.5m between the companies, bank loans and overdrafts and Bridget and I wagered everything else we had into the build. With it came a 50hl traditional 2 vessel brewhouse, 8 x 100hl CCV's,a bottling line and importantly a 5 head canning line from Canada. Our first brew from Tottenham Hale hit the mash tun in May 2014 with the first batch of Gamma Ray getting canned in early June.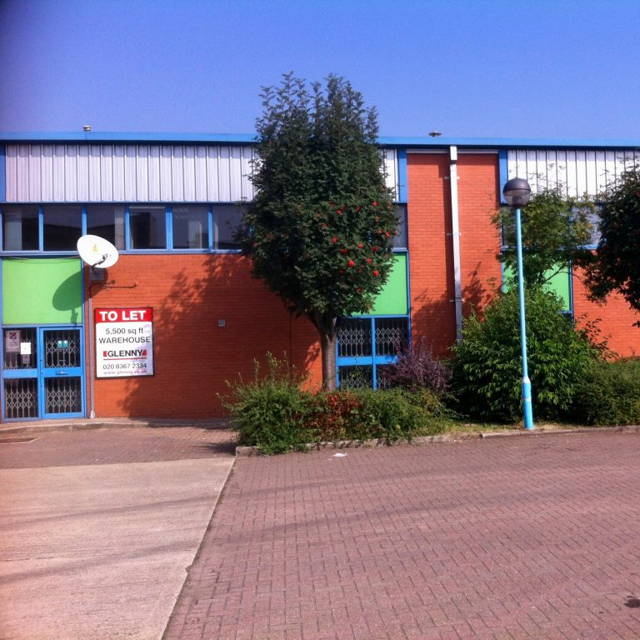 These were massively intrepid daysfor the 8 of us that made up Team Beaver at the time. We were brewing by the seat of our pants, turned our cans into works of art and taken another absolutely determined stepin to forming the future of Beavertown.
Ever since then we have continued to grow and evolve, each time exceeding our own expectations and each time having to change and develop our ideals and re-evaluate our positions.
As you grow the way you need to work must change, but not only that, the way you think changes too. This wasn't about just the livelihoods of Bridget and myself but the livelihoods of 20, 40, 60, 80 people. That's when you realise that this is about more than beer, and as well as rolling out the good times there are people's lives and futures to consider.
Change has been a driver for not only Beavertown but all of us involved in the craft beer movement in the UK over the past 10 years or so. Change demands adaptation but in return opens up new realms to be explored and new roads to be walked down and Beavertown has never been afraid to adapt or take on any challenge in order to discover new possibilities. I'm geared and primed by not standing still, not missing the moment or sinking in stagnancy. I'm driven by progression, achievement, quality, stimulus and creating experiences. These are the basic elements, the fundamental building blocks that make up Beavertown.
They are the underpinning of what I look for and adore in everything we do as a team and aspire to at every corner or junction throughout our journey together. There is a definite deliberateness to everything we do, consumed by the excellence of our craft and the creation of 'that' moment. The sip, the gulp, the swallow. The experience of Beavertown. All of that leads us to where we are today.
We are about to take a huge leap to the next level. Moving from the current 45,000hl produced at our Tottenham Hale site to a big, beautiful 450,000hl brewery with enough capacity to get our beer on to every street corner in the UK and beyond. We have been working on project 'Beaverworld' for roughly two years now. Putting something together like this isn't cheap. When we started out planning, £10 million looked like it would do it but as with everything our ambitions for this project and our realisations of what we need to get it off the ground have exponentially grown with it. The current investment needed to build Beaverworld now stands at £40 million ($55 million). The options were: to shelve the project and stand still (thus stunting its development and our ambition) or find a way to make it happen. You know us well enough by now, option 2 was the only one for us. We always look forward, we always want to push the boundaries and this situation is no different.
Here are a few Beaverworld facts:
125,000sqft single unit set on 6.5 acres of land.
7000sqft internal visitor centre space
External visitor space.
Projected 150 new jobs over time.
A 5 vessel fully automated brew house
Flexible tank farm: 150hl, 300hl, 600hl and 1200hl CCVs
Annual capacity capable of 450,000hl of packaged product.
40 head can line at 30,000 x 330ml cans p/hr.
240 x 30Ltr stainless keg/hr keg line.
120 x 30Ltr Key Keg/hr keg line.
Fully accessible by car and train.
Within the M25.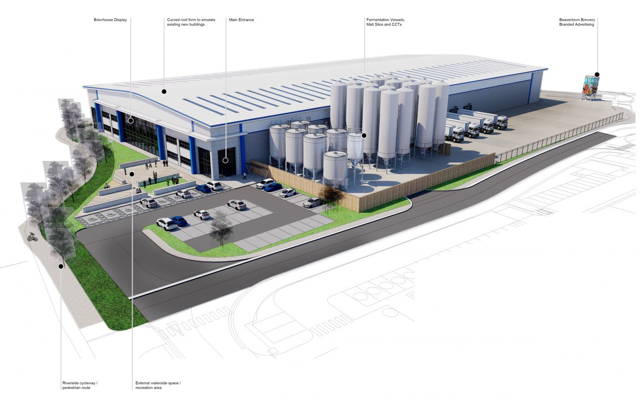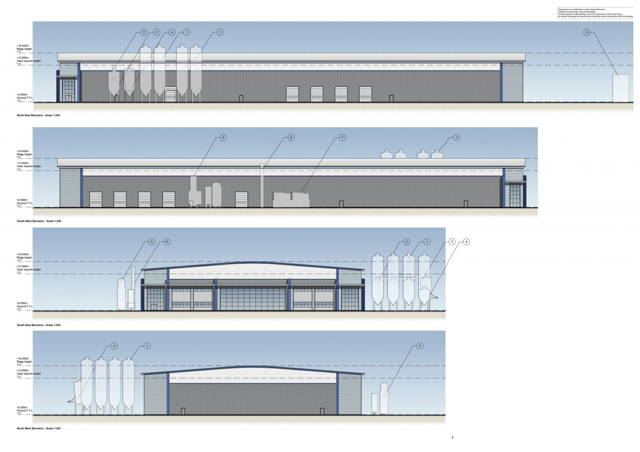 Getting great beer on to every street corner is a mantra we live by, we recently started brewing in Belgium to help achieve that, and before that at Redchurch. While that helps us to grow volume and serve market demand, it doesn't fill the gap financially from where we are now, to where we need to be to build our vision of the future and change the game when it comes to craft beer here in the UK, to make it something inspirational and welcoming for the many, not just the few.
With that in mind, we began looking for investment and talking to various parties about 7 months ago. From start to finish this process and project has been entirely on our own terms and we have been keenly focussed on doing the best thing for the future stability of Beavertown so that we can continue to exceed our ambitions and provide a secure platform for us to grow as a business and as a team of people. As part of this process, we looked at all the options available. Crowdfunding simply couldn't achieve the funds we need so that option came off the table quickly.
We then started looking at Private Equity which initially looked solid. However, the more we looked at the offers it became clear that it was only an option for the short to medium term. Private Equity groups offered the cash but across the board Private Equity seemed to be driven by maximising return on investment ASAP. Investors from these financial houses are not in it for the long run, or for the love of the product or industry they are investing in. They don't care for the nuances and delicacies of your business. They want money in and money out x 3 as fast as possible. Understanding the pressures this intensity of return might put Beavertown under, perhaps forcing us into making the wrong decisions, led me to believe this would not be the right path for us to take. For us that was a risk too far. If we missed the high targets set in the short time period afforded, we'd put the brewery, our beers and our people at risk.
That was when we concluded that the most sensible and stable option was the one that sat furthest away from our minds at the start of the process, one that at first glance felt alien but on closer and more detailed inspection offered us boundless opportunities to grow and develop in the right, safe business manner. Finding another likeminded brewery as a partner. They had to be able to offer the huge injection of cash, but also the longer term and ultimately more important benefit of stability, along with understanding of and expertise in our field of brewing beer and taking our beers to market as best possible.
We talked to a number of brewers: small, medium and large, from all over the globe. We set strong red lines from the start that we would not cross. Beavertown had to remain its own business and in control of its own destiny, with me remaining in absolute charge and control of the company direction and vision. We would only align ourselves with a minority investor who were clear they would not be involved with the management of the brewery. It was also critical that any partner understood and respected our family ethos and culture. Someone who, regardless of size, understands the passion and drive we hold as a close-knit group of people who have taken Beavertown from a pan in a kitchen to where we are now. Finally, we needed a partner who wanted to support our innovations, creativity and drive for quality and expression, and help us get that beer far and wide, giving the drinker greater access to everything that is Beavertown.
It's been an uncomfortable few weeks as speculative rumours have been flying about. The reality is that sometimes in business you can't share everything and I'm a true believer in not talking about anything unless it is a done deal, and up until this very day there was no deal. However, after talking to many parties, we can announce that the minority partner we have chosen to work with to make our vision for Beaverworld a reality is Heineken. In choosing Heineken, we've met the criteria we set ourselves and that were important to us as a company and a team. We retain full control of our destiny. I continue to be the founder, CEO and visionary leading the Beavertown charge and the people you deal with here at the brewery are and will continue to be the dedicated Team Beaver. Heineken want to support us where we want it and otherwise leave us to get on doing what we do best. If there is anything that they can help with to improve our business across the board, they are there to assist, if we reach out.
Beavertown will be the same as we always were, and we will continue to forge our own path together as Team Beaver. We retain the freedom to do our own thing. The relationships with our accounts, distributors, suppliers and brewing family and friends stays exactly the same. Who we work with and how we work with them stays exactly the same. I can't stress enough how imperative this has been to us throughout the process. Heineken do not want us to conform or change. They love what we do and want us to do more of it. That support gives us the opportunity to maximise what we do best and support our partners and team along the way to achieve and grow together. The only change will be the building of Beaverworld, hopefully with completion and beer flowing by late 2019.
Heineken is a proud, independent global brewer but it also remains a family brewer. That family connection means they take a long-term view which Bridget and I value. From the family through to every person I've met in the company, the passion for quality has been paramount. It's been front and centre of all our discussions and why I'm confident the partnership will give us the ability to make our beers even better.
The other key component to choosing a partner from the start of this process was not only about helping us fund the build of this most amazing brewing and visitor experience but also the structure and expertise around the business of brewing beer. As mentioned our mantra over the past few years has been based on getting great beer in to the hands of people on every street corner. As explained earlier, those corners have transitioned from the streets of Hackney, throughout the UK and now my dream of building Beavertown into a global brand is at the forefront. This is my ambitious vision. The partner had to bring to the table not only the physical capital needs for the expansion but also a depth of expertise and knowledge within the industry, the route to market and logistical structure and foot print to help align with and assist in making our visions come to fruition. I want to take Beavertown as far and as wide as it can possibly go. The dreams I had in the kitchen have exploded beyond all proportions. I truly believe this is a magical time within our industry and I want to give Beavertown and its team the opportunity to take our beers and their experiences as far and wide as possible. I am so excited about this next step in the journey for all of us, the team, the drinker and the beer industry at large.
The key points:
This gives Beavertown the £40m ($55 million) funding injection needed to build Beaverworld
Our vision for Beaverworld is an ambitious 450,000hl state of the art brewing facility here in London that will represent the pinnacle of brewing and visitor experience in the UK, maybe even the world.
The leap to 450,000hl is a 10-fold increase on current brewing capacity.
The current Lockwood site will be retained and there will be an expansion of The Tempus Project
Beaverworld when operational will create up to 150 new jobs
Beavertown will continue to shape our own future. Our relationship with Heineken is an arm's length minority deal only
This partner was chosen as it offers long term

stability for Beavertown and Team Beaver so that we can continue to chase our dreams, grow at a fast pace and fulfil our prophecy

of getting great beer on to every street corner, constantly innovating and stimulating more drinkers than ever before.
There will be no recipe changes or external pressures on our brewing and business decisions. We will be focussed on making our beer even better.
Logan will remain founder and CEO of the brewery, leading Beavertown long into the future and the dedicated Team Beaver that you deal with daily will remain the same as always.
All other financing options for this ambitious project were explored including crowdfunding and private equity and dismissed as unsuitable.